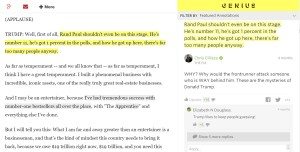 Have you ever had more to say about a story than you could fit in? Of course, you have. Even on the "bottomless" Web, reporters have to leave things out. But what if you could make additional information or background easily available to readers and what if they could do the same, not in a separate comments section but right there on the page? That's the genius behind Genius.
"We want to annotate the world," says director of partnerships Rachel Blatt. The software now being used by journalists and others started as a way for rap music fans to crowd-source lyrics, and then expanded to other genres and uses.
Reporter Chris Cilizza of the Washington Post was an early adopter and evangelist, who believes annotation can save journalism. He and his colleagues have used it to annotate debate transcripts, among other things. The White House used it to annotate President Obama's 2016 State of the Union address and budget message to Congress.
Genius is free and easy to use. Sign up, log in and get right to it. The simplest way to get started is to add genius.it/ in front of any URL. Highlight a block of text, click on the pop-up Genius icon and type your note. That's what I did on this page. Anyone with the genius.it/ version of the link or with a browser extension can see the annotations and comment on them.
A newsroom can easily open all of its pages for annotation and comment by adding a line of code, no prefix required. There's also a WordPress plugin for those of us using that platform.
In some ways, Genius resembles Document Cloud in that it allows for pop-up annotations on the page itself. Unlike Document Cloud, however, Genius is not designed primarily for original source documents but for web pages, which means it can be useful for almost any story. It also allows you to add context to hyperlinks, as I've done in this NewsLab example. And you can easily share or embed a link to any annotation.
What could you use it for? Any story that needs a little more background or explanation, I'd say. If you decide to try it, please let us know. We'd love to have more examples to share.
You might also like
---