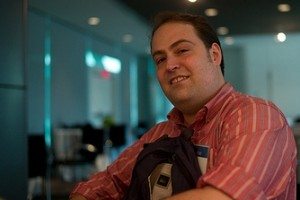 Andy Carvin of NPR is a Twitter rock star. His social media reporting during the Arab Spring has made @acarvin a go-to source for information about uprisings from Tunisia to Yemen. He describes his role as that of a "Twitter anchor," vetting sources, verifying information and passing it along to the public.
Carvin's 55,000 plus Twitter followers helped pinpoint landmarks in online photos, translate Arabic, identify accents and track down information more quickly than he could have done on his own. "My followers had expertise that I could never imagine. I didn't have a producer or experts, I had Tweetdeck and my tweeps."
But reporting on Twitter is like getting a thousand foot view from a helicopter, Carvin says. "The work I'm doing cannot replace the work that field reporters do. It's important but a complement to what others are doing, especially when you can't rely on one source on the ground or when you can't get there at all."
Carvin talks to NPR reporters every day, sharing what he's learned and connecting them to sources who are willing to talk. "My work informs what [the reporters] are doing and I'm pretty sure this could happen at the local level."
What has he learned? "The people who follow you on Twitter are your most important assets," Carvin says. "They can help you if you take the time to talk with them and learn who you can trust." Carvin advises reporters to spend at least 15 minutes a day building and nurturing their social media community, just as they would cultivate sources they've met in person. And when using information acquired via Twitter, give credit where it's due. "If you get information on Twitter and you don't acknowledge where it came from, you run the risk of people thinking you are exploiting them and then they may not help you."
That's all great advice, but my favorite tip from Carvin was a suggestion that grew out of his experience when a plane went down in Reno, Nevada. He searched for tweets about it by location, of course, but he didn't search for "airplane" or "crash," as you might expect. Instead, he plugged in "OMG" and "Holy shit" and within minutes had a link to YouTube video of the crash. How's that for a new reporting strategy?
You might also like
---