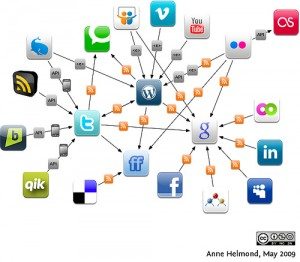 There's so much information on social media sites like Twitter and Facebook that trying to absorb it can be like trying to drink from a fire hose.  Instant updates are great but it's sometimes difficult to spot the good stuff amid the drivel. While lists and groups can help narrow the stream, nothing beats search when you're looking for something specific. And now, there are more search options to choose from to make it easier to find what you want.
Twitter's own advanced search page lets you filter queries to find tweets by location and time frame, and then set up an RSS feed for the results. Handy, if you're tracking a breaking news story. You can also narrow your search to show only tweets in a specific language–Thai, for example, if you're looking for sources on the unrest there–and then use Twitter's built-in translator to read them in English.
Topsy goes Twitter one better by including the option to create an email alert for search results.  Bing's new Twitter search site lets you see tweets in "real time" but for my money, Monitter does that better.  What Bing does offer is a list of results sorted by shared links, so you can quickly see what people are sharing and what they're saying about it. WhosTalkin is another social search engine that includes blogs as well as Twitter.
Finding people on Twitter
Finding experts on Twitter can be an exercise in frustration if you don't have a name to start with. But what if you could search what people have said about themselves in a Twitter bio? You can, using Google. Type this in the search bar: site:twitter.com intext:bio * [search term]. Make sure to leave spaces on either side of the asterisk.
Another way to find people on Twitter is to search by location. CityTweets streams tweets from and about two dozen cities, mostly in the U.S. LocalTweeps lets you find users anywhere by typing in a zip code or city but you have to click on their pages to see what they've written.
Searching Facebook
Things keep changing over at Facebook, not always for the better. Six months ago you could easily filter your friends by location. Now you can't. But Facebook's search function can help you find experts if you know where to look. Type a specialty in the search bar and then click on "groups" to see what comes up. Narrow the list by group type to find more useful results. You can also check "pages" and then choose a specific type of page, say "non-profit" or "organization" to find potential sources.
Another option for searching Facebook is OpenBook, a site whose goal is to expose just how much "private" Facebook information is really public. Fair warning: a lot of the search terms that come up on the page are offensive. But journalists could use it to see who's posting about a breaking news story.
"You still need to sift the gold nuggets from the dust," says Jeremy Caplan, visiting professor at City University of New York, who shared many of these tips during a webinar for SABEW members. "The key is to search efficiently so you can find the nuggets quickly."
Hope this post is helpful. Do you have additional suggestions or favorite sites for searching social media?
You might also like
---