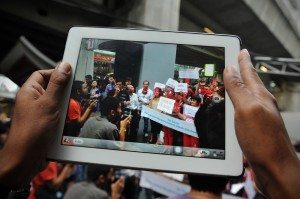 It's a perennial question and the answer keeps changing: What are TV news directors today looking for in new hires? For Geoff Roth, who's building a new television newsroom from the ground up at Fox 46 in Charlotte, N.C., the list is long and challenging. You'd better be able to shoot, write and edit if you want to work for him, but that's just the start.
Journalists also need to understand technology and social media, Roth says, and be flexible about how they do their jobs, which can change on any given day.
The equipment new journalists can expect to work with is changing rapidly, too. Roth plans to equip everyone in his newsroom with iPads so they can shoot video and feed it from anywhere. He had some success with that approach at KRIV in Houston, when he sent eight reporters out with iPads to cover a ferocious storm. When none of the other stations could go live because it was too dangerous to put up the mast of a live truck, Roth says, his reporters had solid 4G signals and went live from all over the area.
Originally published at Advancing the Story
Reporter iPad image via Shutterstock
You might also like
---