by Geoff Roth, executive producer, KRIV, Houston
Last year our news director challenged everyone to come up with new ideas for our newscasts. One suggestion I made was to recruit bloggers from the Houston community to do pieces on restaurants, lifestyle, and the arts. His response" Great idea. Why don't you go out and do that?"
So, I did. And I decided that if I wanted  these stories to be exactly the way I wanted them, I was going to shoot, edit, and produce them myself.
I had already developed an interest in the use of DSLR equipment for news shooting, having seen it done more and more, especially by international news organizations like the BBC and Al Jazeera. And, I already had the equipment.
My basic setup: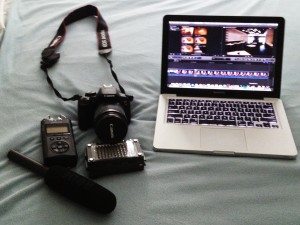 Canon Rebel T4i DSLR
Canon 18-135 mm STM lens
Rode NTG2 shotgun mic
Tascam DR40 digital audio recorder
F&V Z 96 LED light
MacBook Pro 13″ w/ Final Cut Pro X
I now have a group of five local bloggers who suggest and set up stories that we air once a week on Fridays in our 9 p.m. newscast.
Most of my bloggers are food writers and many of the stories focus on restaurants and food events, although we have also done stories on everything from art exhibits to home design. The shoots usually take about two hours and it takes me about another two hours to edit the stories.
Here is what  I have discovered about shooting with this set-up:
Pros:
The cost:  For under $3500 I have a  set of gear that produces broadcast-quality video that also looks fantastic on the web.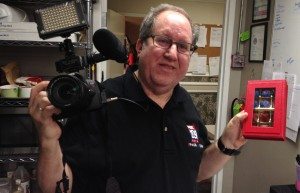 The versatility:  With the ability to change lenses, I can create different looks depending on the story I am shooting.
The intimacy:  The set up is not nearly as intimidating as a full-blown broadcast camera setup. It allows me to work well in close quarters (like many restaurant kitchens). It is less intrusive when shooting a restaurant filled with customers.  I can see why several war correspondents use this type of setup to be quick, versatile, and not stand out in a crowd.
Cons:
Audio:  The built in audio in the camera is almost useless for any kind of serious shooting. There is also no easy way to monitor audio. You need an external mic to make this work. My two workarounds are either using a good shotgun mic plugged directly into the camera, or recording the audio separately on a digital audio recorder and then merging the audio with video during editing.
Speed:  I can't see using this setup for quick turnarounds or breaking news.  Especially when I do interviews and record the audio using lav mics hooked into the digital audio recorder, it takes time to transcode the video and merge the video and audio before you can start editing.
Here's a story I produced for Fox 26 using this gear:
I think anyone interested in having a low-cost option to produce stories that are not terribly time sensitive should look into shooting with a DSLR setup.  Especially in these days when there are more and more opportunities for  "entrepreneurial journalism" on the Web, the low cost of this type of setup allows people to strike out on their own.  Here's an example. Daniel Klein of The Perennial Plate basically is a travel & food journalist who uses a setup similar to the one I use. He talked about his process in an interview with the New York Times
You might also like
---