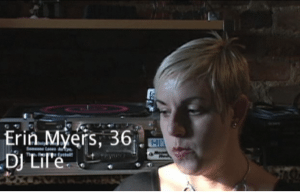 Ian Shapira leads a double life. By day, he's a reporter at the Washington Post. By night, he's a graduate student in interactive journalism at American University, learning a whole new way of telling stories. And it hasn't been easy.
Shapira is no rookie; he's been at the Post for 10 years and was the lead reporter on the team that won a Pulitzer two years ago. But he's brand new to audio and video, and he's still discovering the different skills he needs to tell stories with these new tools. No, he's not the first print reporter to go through this learning curve, but he may be the first to write candidly about it and share his student work on his own paper's website.
On the Post's StoryLab page, Shapira writes of his experience shooting a profile of a veteran DJ:
My transition from writer to video journalist has not been comfortable. I constantly fumbled with the tripod — right in front of my subject — which was about as embarrassing as getting caught with one's fly open. And I spent so many hours late into the evening with the video editing software Final Cut Express that I wondered whether I was even doing journalism anymore, or computer science.
The video Shapira produced isn't brilliant but it does show he's trying. He 's also experimented with audio slideshows on his class blog, Curb Your Journalism. And he's opened himself up to being critiqued in public; I hope he pays attention to the useful comments on his video.  But as he struggles to learn a new medium, Shapira wonders if it's worth the trouble:
Does it even make sense for writers like me to learn how to shoot and edit video? For video journalists to become writers? Shouldn't news organizations such as The Post invest in more specialists? Or, given our industry's financial upheaval, is a more versatile staff better?
You can probably guess where I come down. Yes, it makes sense for journalists to be more versatile.  And as Shapira's learning, getting there is not a snap. How would you advise him?
You might also like
---