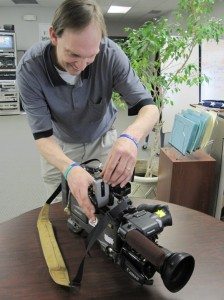 With a newsroom staff of just 23, WIBW-TV in Topeka, Kansas, has a wide reach–and not just over the air. The station is a longtime market leader, drawing more than twice as many viewers for its late newscasts in November as the other two stations combined. But that's only part of the story.
General manager Jim Ogle, a former news director, doesn't just want to own the television ratings, he wants to dominate every other platform WIBW is on. So he's pushed the station's presence on the Web and on social media. Everyone on staff posts to Facebook, Twitter and WIBW.com; most of them blog on the site, as well. "It's a way of building rabid fans for the operation," Ogle says.
Reporters are expected to generate about eight Web posts a day, so they're often just providing brief updates about stories they're covering. At first, that didn't sit well with news director Jon Janes. But even he's become a convert, after becoming convinced that the benefits outweigh his concerns about sharing exclusive information before air time.
Ogle says it's been a learning process for most of his staff, even those younger journalists who already knew a lot about social media when they were hired. Because they're still being taught in school that news stories are a finished product, he says, it's an adjustment to think about news as a process that you share along the way.
One more strategy from the WIBW newsroom: Whatever its cameras in the field are capturing can also be streamed live on the station's website, thanks to a simple solution devised by chief photographer Doug Brown. As you can see in the photo above, he rigged each camera up with a cell-phone cradle, the kind designed for cars, so photographers can stream live from their phones while shooting.  The video quality via Sprint's 3-G network isn't the best, Ogle says, but it's good enough.
You might also like
---