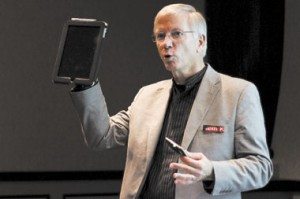 Should you ditch your laptop for an iPad? Kerry Northrup votes yes. He's the brains behind the long-running NewsGear project, formerly based at the IFRA Newsplex at the University of South Carolina, and he issues an annual list of state-of-the-art mobile technology for journalists.  This year's list, unveiled at the SPJ conference in Las Vegas, also includes a Nokia N8 smart phone, a VuPoint scanner and a Sony NEX-VG10 video camera that also shoots stills.
According to a report in the convention journal Working Press, Northrup admits the iPad has some limitations but with accessories like a keyboard and external storage, it can do everything a multimedia journalists needs it to do. The iPhone, on the other hand, is not on his list.   Northrup says he chose the Nokia instead because it works better overseas. It takes 12-megapixel still shots, has a Xenon flash and shoots high-definition video.
His stand on the iPhone is contrary to what many other multimedia types have said. Richard Koci Hernandez, for example, calls the iPhone "a storyteller's most valuable tool." Check his post at Multimedia Shooter for other suggestions for iPhone fans, including apps, power supplies, tripods and grips.
Northrup's reasons for choosing the Sony camera?  It shoots HD video, takes 14-megapixel still photos and accepts an external microphone to get broadcast quality audio. At $2,000 it's not cheap, but Northrup says it's worth the money.
None of these fancy gizmos are worth a dime, of course, if you don't know how to use them and why, so training is essential. "It's about making them much more aware that they work in a multiplatform world," Northrup told the SPJ session. "They have to understand the strengths and weaknesses of all the tools in the toolbox."
You might also like
---