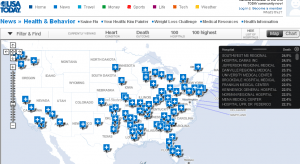 USA Today puts together some amazing online interactives with a surprisingly small staff. Just five people are typically involved in putting together major projects, says Chet Czarniak, managing editor of USAToday.com–a designer, programmer, producer, IT person and database editor.
The results are often impressive,  like this searchable database of US war casualties in Iraq and Afghanistan. Web producer Josh Hatch says the goal was to give users a statistical view of the wars' costs, but also a personal view. "People tend to want to find stuff that's sort of about them," he says. So the interactive lets users sort the casualty list by gender, race, age, hometown and other demographic information to find out if anyone who died is "kind of like me."
A project like this will take a couple of months to build, so the team tries to choose its topics wisely. They look for topics with a "long tail" that will keep producing page views over time, Czarniak says. The goal is to build a graphic once and update it by adding fresh data.
Simpler multimedia graphics can be produced by almost anyone at USA Today, using templates the design team has created. "It democratizes the ability of people to participate," says Czarniak, and it's had the unexpected benefit of reducing errors. Because the templates allow users to save a draft version of an interactive, the copy desk can review it before it's published online.
Hatch compares his job as multimedia producer to that of a utility infielder in baseball. "I can do a lot of things," he says, "but there's always someone on staff who can do it better." So Hatch welcomes the opportunity to work with a photojournalist, as he did on this story, with both of them shooting some of the video:
Hatch began his journalism career as a newspaper reporter and eventually found his way to Web producing. Meeting with a group of journalists from around the world at USA Today headquarters in McLean, Va., last week, Hatch described his career path and talked about the skills journalists need in today's multimedia newsrooms:
"Combining journalism and technology ensures that I'm always learning and usually having fun," Hatch says. "Who could ask for more?"
You might also like
---