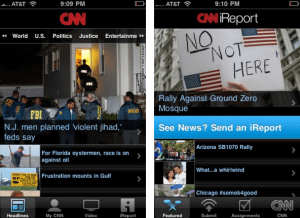 Little interactivity and even less innovation. That's the headline from a new study of the state of mobile news from the University of Colorado. The report chides news organizations for playing it safe and creating apps that just do the basics. "Most of the news applications that have been created by single news brands do not do enough to encourage interactivity, customization, or creativity," the study says.
Colorado's Digital Media Test Kitchen looked at apps and mobile websites from CNN, USA Today, the New York Times, Associated Press, MSNBC, The Guardian, Politico, and The Huffington Post in May 2010. Most of them made it relatively easy for users to share stories via email, text, Facebook or Twitter. But only the Huffington Post app allowed users to comment on stories. In other words, organizations' mobile apps offered less interactivity than their online news sites.
That doesn't mean there was no interactivity. CNN got kudos for its iReport feature that lets users send information or photos from their mobile phones. The Associated Press app has a similar "send to AP" function, but neither allows users to send video.  USA Today's app lets users vote on poll questions.
Conclusion: "Overall, compared to the innovation that's rampant in the non-news mobile app world, the news apps we reviewed seem behind the curve."
Among the report's recommendations for mobile news app developers:
1. Step up the interaction component
2. Don't just shovel; create new mobile-exclusive content
3. Ask for and accommodate mobile user content submissions
Looking ahead, the report says mobile technologies  like geolocation, augmented reality, voice-to-text and more should open new opportunities for news apps. "News applications could include augmented reality building recognition able to pull up news as the user points a smartphone at a government building," much the way Wikitude now provides content to mobile phones.
Can news organizations afford to do all this? Maybe a better question is: Can they afford not to?
You might also like
---