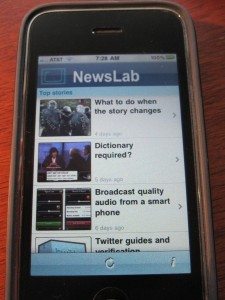 Anyone with a smart phone knows that it's difficult to read a standard website on the screen. Sure, you can zoom in, but then you have to scroll around to see the rest of the page. I've known for some time that we should offer a mobile version of the NewsLab site. But with no budget for a designer, I knew I'd have to create it myself and I was a little intimidated by the process.
The first step was finding the right on-line tool. Lots of sites promise free and easy app building tools, but most of them don't tell you what you really need to know upfront. It may not cost anything to build the app but if you want to share it, there's often a substantial fee.
AppBreeder, for example, offers several templates that look attractive but charges $29.95 a month to publish an iPhone app. Appanda rates are about the same, plus there's a $99 set-up fee.  MoFuse also charges a monthly subscription fee for "build-it-yourself" apps that goes up with usage.  BuildAnApp has different rates for iPhone and Android apps. [Update 2/21/17: BuildAnApp is out of business. Thanks to Andrew Gazdecki for letting us know. His appmaker, BusinessApps, offers a single app plan for $42 a month, and includes iPad apps as well as iPhone and Android] WireNode lets you create a free mobile site (not an app) but from what I could tell you have to start from scratch. There seems to be no easy way to import content from an existing site, which kind of defeats the purpose.
In my dreams, I wanted the app to offer everything the site does and to make it available in the iTunes store. And I wanted to do it affordably–for free if possible–with no recurring fees. AppMakr appeared to have a lot of potential. It imports RSS feeds and allows you to add multiple feeds, which seemed pretty simple. But what I got was never quite what I wanted. No images. Post after post marked "invalid date." And the Twitter feed I included showed my name as well as my user name, which added clutter and confusion. To top it off, the process for testing and publishing the app for free required developer-level skills, which the site doesn't make clear at the start.
Mippin's App Factory, on the other hand, could not be simpler to use but the options for content are extremely limited. You can choose only one feed from a few prescribed sources: RSS, WordPress and Facebook among them, but oddly enough not Twitter. The "factory" is still in beta and plans call for allowing apps to display up to four feeds in the near future. For now, though, what you get is a clean, attractive display, complete with pictures, that's optimized for mobile, iPhone and Android. The $20 flat fee even includes a cool QR code.
The NewsLab app I built with Mippin isn't all I wanted it to be. It's not available in iTunes and it doesn't include the daily headlines, but it works like a champ. And to my great surprise, it's the featured App of the Week on the Mippin blog. Please check it out, let us know what you think, and keep an eye out for updates. We'll add more content as soon as we can.
You might also like
---