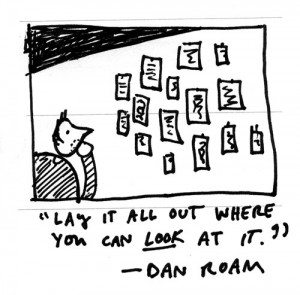 How do you make a complex issue like health care or the financial meltdown comprehensible? Graphics can help, and they don't have to be elaborate.
ABC News Reporter John Hendren used cartoon drawings to explain how "toxic assets" at banks are like rotten apples at a fruit stand. The analogy helped to clarify the problem and explain the government's plan to deal with it.
The approach may seem simplistic but it works, and it doesn't take an army of graphic artists to produce. Common Craft, a two-person production house in Seattle, makes simple videos to explain everything from banking to technology:

"Sometimes the news media start explaining things too far into the subject," says Common Craft founder Lee LeFever. "We start at A."  LeFever writes a script first and "the images come out of the words." Once the paper cut-outs are made, he shoots the video in chronological order and completes the edit in four to six hours. He's so committed to explainers that he even produced a video to show how he does what he does:
Dan Roame, author of The Back of the Napkin, believes that any problem can be solved with a picture. Here's his take on health care:
Can a local station do something like this? Why not?
You might also like
---