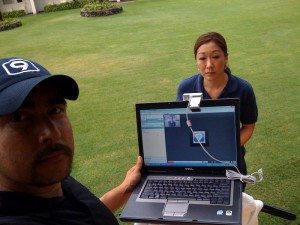 Going live on TV used to require a truck and a signal–microwave or satellite–to get the story back to the station for broadcast. Obviously, that's no longer the case. Now all you need is a Webcam and the Internet to go live via Skype, and best of all, it's free.
The quality may not be up to snuff, though, as KGMB photojournalist Oscar Valenzuela discovered when he used that kind of bare-bones rig to cover Hurricane Felicia as it bore down on the Hawaiian Islands.
All in all I've since watched the shots and for the most part they looked… well, terrible. And our set-ups were pretty much Keystone Cop disasters. But as I have said before, in all my years in news it's, "not what the shot looks like but… do you have the shot at all." In this case we all got the shot. There wasn't a live truck in sight and we could finally go Live!-Anywhere!-Anytime!… kind of.
After he got back to the station, Oscar tested Skype with a different set-up using his professional camera. The results? Much better. Check his blog for a comparison video.
You might also like
---