Research by Mary Spillman, Ball State University
Larry Dailey, University of Nevada, Reno
Lori Demo, formerly of Ball State University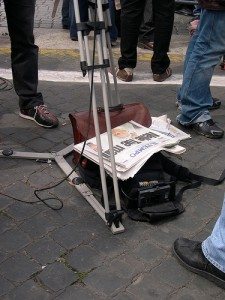 As the Internet becomes a more dominant source of news and information, the bloom may be off the rose of TV-newspaper partnerships. That's the conclusion of a national survey of newspaper editors, which found that the early promises of cross-media partnerships to create full convergence have yet to come to fruition, that full convergence might never materialize and that the future of newspaper-television partnerships could be in jeopardy. The research was presented at the 2008 Association for Education in Journalism and Mass Communication national conference in Chicago.
A slightly higher percentage (34.6%) of newspapers reported they had partnerships with television stations compared to a study conducted in 2004 (29%). But the behaviors practiced by those partnerships hadn't changed much in the three years between studies. The new survey found that most partnerships were still basically cross-promotional efforts.
The researchers say the ingrained competition and distrust between newspapers and television journalists is a likely stumbling block to real convergence between print and TV partners. But they suggest that the Web may be an even bigger obstacle.
"Newspaper owners, such as Gannett and others, are pushing editors and reporters to aggressively update their Web sites and internally produce video, audio and other multimedia content that might originally have been provided by the television station partner. Some newspapers are producing TV-style Webcasts; newspaper columnists or beat reporters produce their own podcasts; and videographers who previously worked at television stations have been hired to produce exclusive video for the newspaper Web site."
Of the editors who have partnerships with television newsrooms:
59.4 percent said they had offered video training to their reporters in the previous six months.
74.5 percent said they had offered video training to their photographers in the previous six months.
30.9 percent said they employed a videographer whose sole job was to provide video for the Web site.
More than half the editors surveyed said they'd never had a partnership with a local TV station. And almost 13 percent said they had had a partnership but ended it for a variety of reasons:
More than half agreed that the planning was too time-consuming for the amount of benefit the newspaper received, while almost one-third said the quality of the partner's work did not meet the newspapers standards.More than one-fifth of editors agreed that the partner would not give the newspaper content to put on its Web site.
One in four agreed that staff members complained that the partner's staff members were not cooperative, while about one in three agreed that deadlines did not mesh or that differences in journalistic style prevented productive collaboration.
One in four said they decided their staff could gather broadcast-style content for the Web site, while more than a third said staff members now were shooting video.
Here's how one editor explained the decision to let a TV partnership lapse: "We did the sharing, but we did not get anything," one editor wrote. Wrote another: "This was a one-way street. We got nothing out of it except promotion on their TV news. Our demographics are high; theirs are low. We didn't see this partnership helping us, only them. So we let it fade away."
One finding from the earlier study that bucked conventional wisdom held true in the current study, the authors say. "Much had been written to suggest that convergence is more likely to happen when the newspaper and television station share common ownership, as seen at high-profile efforts in such cities as Tampa, Florida; Chicago; and Lawrence, Kansas. But the current study shows that only 11.4 percent of newspapers reported they shared ownership with their television partner, down from 13.2 percent in 2004.
"The results confirm that competiton and wariness of the partner remain strong, and may prevent the formation of new partnerships in the future. Perhaps most important, the study found that newspapers have greatly changed their newsgathering behaviors in the three years between the studies. Where early convergence champions saw newspapers taking advantage of audio and video resources of their television partners, this study shows newspaper staff members are starting to make those behaviors part of their internal routines – another sign that partnerships could face an uncertain future."
---
Mary Spillman is assistant professor and program director, Digital Media Minor, in the Department of Journalism, Ball State University, Muncie, IN.
Larry Dailey is professor of journalism and Donald W. Reynolds Chair of Media Technology at the Donald W. Reynolds School of Journalism University of Nevada Reno, NV.
You might also like
---