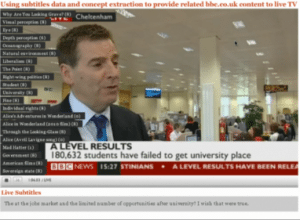 Everybody's working on it, from Google to Verizon. "It" is the holy grail that will finally merge live television with the Internet, letting users watch and click in real time on any device they choose–TV, laptop, mobile phone or tablet. No, we're not there yet. Not even close. But the BBC has been experimenting with something that's worth a look.
"The most useful application we could think of was something that would provide web content that was relevant to what was being talked about on TV," writes Andrew Littledale on the BBC's Backstage blog. The app uses the closed caption feed to produce a list of "relevant concepts" that pops up on screen. Those concepts are mapped to related content on the BBC website, so users can click through to read more about any topic that interests them.
It's not pretty but it seems to work.
As someone who's on the record as being anti-clutter, I think there's way too much on the screen. But the concept has merit. Your thoughts?
You might also like
---