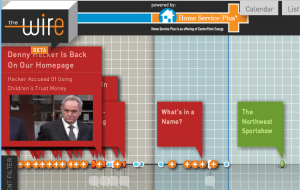 Who says local TV never tries anything new or different? The CBS affiliate in Minneapolis, WCCO-TV, has just launched a special section on its website that lets users track, comment on and contribute to developing stories.
The Wire is a pretty simple idea at heart: a searchable three-day timeline with pop-up boxes for news, events and comments from both newsroom staff and users. Users can click on an entry for more information, including text, photos, video or behind-the-scenes notes from WCCO journalists. Then they can add comments or share the item with their social networks.
The Wire lets users watch in real time as news stories unfold and contribute to them, as well. Whenever information comes in on a story the station adds a new post, so users can scroll back and forth to see what happened when.  Because users will know when the station is working on a story, they "could add to it, or comment about it, which may potentially change the shape or scope of that story," says WCCO creative director Casey Kespohl in a video introduction to the new project.
The timeline also includes tweets from WCCO staff and from other local news sources, including competing television stations. That's a pretty bold move, since those tweets include clickable links to the other guys' websites.
Want to know more about how it works? Here's a how-to video the station posted on launch day:

The Wire isn't all about news, though. WCCO obviously hopes the Wire will make money, so organizations and businesses can post events on the timeline "for a nominal fee." That gives advertisers "brand integration," says Kespohl. In other words, when they buy their way onto the Wire they're getting the online equivalent of product placement on the air. That's a controversial concept, to say the least. But Kespohl justifies it by saying the site isn't just a news source, it's more of a community.
Maybe the old rules really don't apply on a site like the Wire. But it wouldn't be that hard for events to carry a "paid advertisement" label, would it?
That said, WCCO deserves credit for trying something different, lifting the curtain on how news is made and inviting the public to weigh in in real time. Will people use it? Will it make a difference in the newsroom? And will it ever turn a profit? We'll have to ask those questions in a few months.
You might also like
---