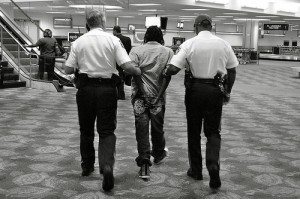 Here we go again. Black leaders in Pittsburgh are complaining that local TV news misrepresents African-Americans. "I'm tired of turning on the news and seeing a sister with her hair all over the place, five teeth missing and looking like she just stepped out of the bedroom," one activist said at a recent Black Political Empowerment Project summit on media portrayal of violence.
Community groups said TV stations only show up for bad news–crime and court stories, in particular.  Local news directors responded that they go where the news is, without regard to race or neighborhood. It's a debate that's come up in every market he's ever worked in, says Mike Goldrick, now the news director at WPXI, who attended the summit. What's different this time is that local stations are discussing the possibility of a joint plan of action to improve coverage of minority communities.
Bad news is easy to find, Goldrick told NewsLab. It comes into the newsroom on the scanner every day. But he said it's harder to find good news to cover in minority communities because the stations don't always know about it. "People assume we know and they don't think it's their responsibility to tell us," he said.
To help those stories get on the assignment sheet, Goldrick is proposing that local stations work together to train non-profits and other groups on how to pitch stories.  Other ideas that were discussed in small groups at the summit are still being developed. "It's a work in progress," Goldrick said. But he's heartened that the meeting wasn't just an opportunity for people to yell at the news media but also focused on finding solutions.
The idea Goldrick shared may have some promise. But I'd argue that more enterprise on the part of journalists also would go a long way toward changing the picture TV conveys of communities of color. That means spending time getting to know what really matters to different communities in your coverage area. Talk to experts and community leaders, but don't stop there.
Find a listening post and really listen, advises Victor Merina, a former investigative reporter at the Los Angeles Times. It could be a barbershop, a church, a mosque, a coffee shop or a park. "Just go there and keep your ears open," he says.
Among his other tips:
Do your homework. Read widely, especially special interest publications, ethnic media, community newsletters and websites.
Go with a guide. Find someone in the community who can act as an intermediary, can help put sources at ease, and can assist you in avoiding cultural landmines.
Never assume. Making assumptions can betray your ignorance and lead to unfair or inaccurate stories.
What suggestions would you add to improve cross-cultural reporting?
You might also like
---