How do you locate sources and original content during a breaking news event? Every newsroom turns to social media, but some are more efficient than others at finding what they're looking for. In these newsrooms, lots of journalists know how to search for information quickly by specific location. If you're not one of them, it's time to learn how.
Typing the name of a location (say, near:Kalamazoo,MI) into the search bar of a social media platform like Twitter will bring up posts geotagged from there, as well as some posts from people with that location in their profile. It can be a quick way to look for eyewitnesses to breaking news, like this weekend's shootings in Kalamazoo.
If all you know is that something's happening near a city, you may need to zoom out (near:Kalamazoo,MI within:25mi). But if you're dealing with a larger area, say Paris during the attacks last November, you'll also get tons of posts that have nothing to do with the breaking news you're tracking. In that case, you need to zoom in by adding geocode to your search, but that gets complicated.
Map-based searching is much easier. If all you want to search is Instagram, by all means try Gramfeed. It's free and searchable by location, keyword and date range. A couple of other alternatives that search more than one social network at a time are  Echosec and Ban.jo.
The free version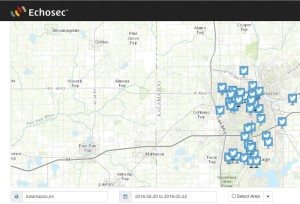 of Echosec will search Twitter and Flickr. It, too, allows you to search by date and to zoom in and out on the map. You can also draw a shape to outline the search area. It's pretty good, but in my experience it's been slower than is desirable in breaking news situation.
Ban.jo is quicker and it's making a big push with newsrooms, offering its basic Discovery service, free of charge, to journalists. Ban.jo also has iPhone and Android apps. Just sign up with your work email address, create a free account and start searching.
Here's a how-to for the desktop version. Begin by typing in then name of a city, a neighborhood or a specific address at the top of the page to get a map of the area, then move around the map to find tweets and Instagram posts. Ban.jo will pull up to the 100 most recent posts; if there are more, it's easy to load them. You can filter the list by adding a keyword search. As with all social media searches by location, posts have to be public and geotagged to show up on Ban.jo.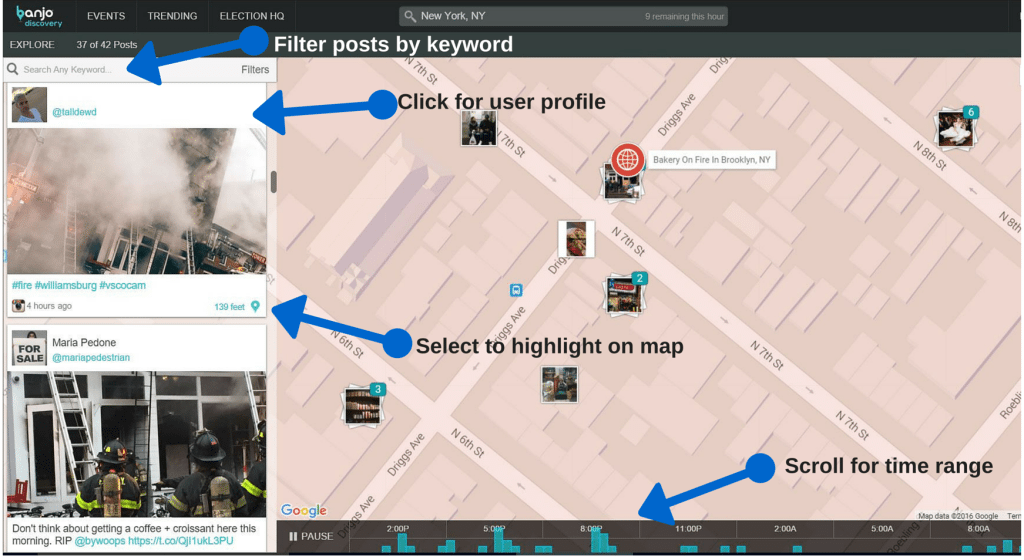 At the bottom of the map, there's 24-hour timeline so you can instantly see and select the most active time periods.  In each post, there's a bubble that links to the user's account, making it easy to contact them, and a location pin that highlights where the post originated on the map.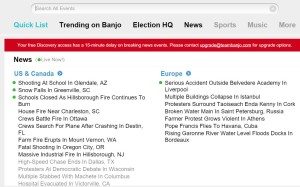 Ban.jo Discovery includes a couple of useful tabs, as well, highlighting what's current ("events") and trending in the news news. The events tab is specifically designed for breaking news.
Ban.jo's Jillian Bichanich says the company's computers are training themselves to know what "normal" looks like in the social media world. "When something out of the norm happens, a cluster of pictures from an area that normally has no posts, or a fire, it becomes a lead to an event happening," Bichanich says.
At that point, the humans step in. A 24-hour team curates "albums" so users can see what's happening where. The team also filters out posts about other things in that area. A green dot means the event is live, still being curated. "It helps newsroom validate what's happening and decide whether to send a crew," Bichanich says.
The curation team is busy; according to Bichanich, by the end of the year it could be processing 1,000 "events" a day.
Needless to say, there's a catch if you want to use Ban.jo for free. The number of location searches you can do per hour is limited to 10, but for most local newsrooms that's likely sufficient. A bigger issue is that it also limits the value of the "events" tab by adding a 15-minute delay, and grays out events more than 12 hours old. If your competition is paying for premium service, the free version might not be good enough. If you're going to pay for location search, there are other options to consider, including Geofeedia and GroundSignal.
What location-based search tools are you using? Let us know!
You might also like
---