What can you do when the network sucks up all the air time on Election Night? Convinced that cut-ins twice an hour just wouldn't cut it, anchor Amy Wood expanded her station's 2012 coverage online using a relatively new video chat tool, Spreecast.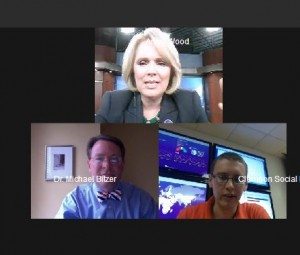 The result? "Nine hours of live streaming coverage. No live trucks. No 'assigned' reporters. No graphics people," says Wood, who works for the Media General station in Greenville, S.C., WSPA.
We asked Wood to share her experience:
"Spreecast allows you to put up to four people on camera at a time (including the host) and post information and links on screen as lower third graphics. You can share YouTube videos for everyone to watch (so we had reporters post short updates there) and pictures with a URL address can be shared (we encouraged viewers to send their "I voted" sticker shots). The links that you post as lower thirds are clickable while you are live and in the replay after your event ends. And you can embed the video on your website.
"Using webcams, we brought our online audience lives shots from around the Carolinas: Charleston, Columbia, Greenville, Clemson, Spartanburg, Charlotte, Salisbury.
"Experts joined in from universities like Furman, Wofford, Clemson, Elon, USC Upstate, Catawba College and more. Three producers–one from our TV team, one community volunteer and a student volunteer from Clemson–helped line up the webcam guests, kept me in the loop for breaking news and selected the best comments.
"It was important for viewers to be able to ask questions and have a place to comment. But we wanted context. So I took a trip to Clemson's Social Media Listening Center and worked out an arrangement to have exclusive access to their data, culled from 200 million sites, through Radian 6. The information proved to be insightful and predictive of the election outcome. Twice an hour a team of students shared information.
"It also helped us uncover election stories like the illegal ballot pictures, being taken by voters at the polls, and that trouble at the polls in some states had led to voting hours being extended.
"When the networks went to national coverage during our 11 p.m. show, we were able to carry on with our team of commentators online and close out our coverage.
"If you are a journalist, and want to do something more, if you want to bring your audience deeper coverage, you can do it. There's nothing to stop you.
"It took a lot of time to develop the network of people who could join us on webcam. I spent at least thirty hours of personal time working it all out. Of the 60 plus I contacted close to 30 participated. And we're now positioned, for the next time, to do it bigger and better.
"The Web is forgiving. It allows you to keep it real, to peel back the curtain. As you anchor and punch up the live shots yourself, you get to handle the glitches with humor and grace. It's not supposed to be perfect, polished TV. It's raw. It's real-time. And that is what makes it so great.
"We know it worked: thousands joined us online posting thousands of comments. It was an engaging experience that we'll try to repeat, not only for big elections but for any big story."
WSPA was hardly the only station using the Web to extend its election coverage this year. Did you try something new? Care to share any lessons learned?
You might also like
---