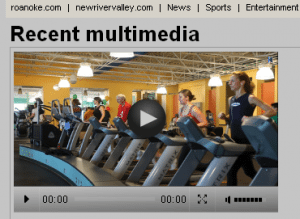 There's no shortage of video online these days; in fact, it's become almost ubiquitous.  But if everyone's bought in to the importance of posting video, not everyone has figured out how to get people to actually watch it.
There's no single "holy grail," of course, but two key words are search and social, according to participants in an online video journalism summit hosted by the Washington Post this week. Their advice: make sure your video is tagged so people can find it and get it on every social platform you possibly can.
Jeff Whatcott of Brightcove said that for SEO purposes, every page that video is embedded in needs to be rich in metadata about the content so searchers can find it. But while search is still the primary way users find videos, Whatcott said, social sharing on sites like Twitter and Facebook is "growing significantly and faster than search."
The Associated Press YouTube channel has over 650 million views to date but almost half of those viewers never went to YouTube, according to Kevin Roach, director of US broadcast news for the AP. "Forty percent of our streams from YouTube come from embedded streams" in social media networks, he said. It may seem obvious, but it's critically important to make it easy for users to embed or "click to share" your videos, said Anna Robertson of Yahoo! Video.
Video content & length
What about content? It depends on who you ask. Roach is a believer in the power of raw video to attract younger viewers, in part because it's nothing like the TV news their parents watched. But Stokes Young of MSNBC.com said that in his experience more explanatory, scripted videos get more views.
The Miami Herald has increased video views by 25 percent in the past year, making it the second most important driver of traffic to the site behind articles.  Managing editor Rick Hirsch told Poynter Online that breaking news and sports videos are most popular, in large part because that's what the site is known for. "This isn't rocket science, but do video on the things that people come to your site for," he said.
Long videos, in general, don't drive much traffic. As Hirsch told Poynter:
One thing we've learned is there's a reason that television does two-minute stories. Unless something is super compelling, people's attention span is relatively short, and it's even shorter on a small screen.
As for live streaming video, it's no longer the flavor of the month. Mike Toppo of CNN.com said he doesn't consider live video "a game changer" online unless it's of something unexpected and unquestionably newsworthy, like what's been happening in Egypt. Anna Robertson of Yahoo! agreed. In her view, shorter clips typically work better online than live streams.
Video location
Whatever the content, don't slap video online without providing context. MSNBC's Young and Ann Derry of the New York Times told the summit that integrating video into online articles is critically important to increase the number of views. "People definitely watch a lot of video at the page level," Derry said. "People don't want to go to the 'gallery' or the 'library' to watch video. They want to watch it integrated into the site."
If you're featuring video on your news site, what's worked best for you? What's been a waste of time and effort? Share your ideas and links to video in the comments. Thanks!
Post updated 3/2/11 to include second Hirsch quote.
You might also like
---