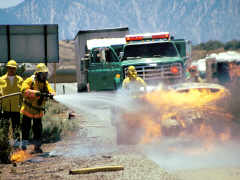 It happens all the time. A tragedy thrusts ordinary folks into the media spotlight. They're peppered with questions, pestered for photographs of deceased loved ones, and paraded onto newscasts and news pages. That can be quite a jolt to those already traumatized.
Journalists walk a tightrope when covering these kinds of stories, trying to tell the hard truth while minimizing the harm that might cause. When they fail to find a balance, there is a substantial cost in credibility and public trust.
So how can they do better? We asked seven ordinary people who were thrust into the media spotlight because of a tragedy to reflect on their experience, and to share some advice. [We also compiled tips on dealing with victims from the Victims and the Media Program at Michigan State University.]

Maureen Kanka's daughter, Megan, was raped and murdered in Hamilton Township, NJ, July 29, 1994, by a convicted child molester who lived across the street.
Maureen Kanka didn't talk to the press at first. She asked her brother-in-law to speak for the family while police continued to search for 7-year-old Megan, who hadn't come home the night before. But then she decided to make a plea for her daughter's safe return.
"I told the reporters I wanted to use them," she says. "We used each other. And it was the start of a wonderful relationship."
After Megan's body was found, the Kankas continued to use the media in their drive for what became known as Megan's Law, requiring the registration and public identification of convicted sex offenders.
"Some people view [journalists] as leeches, out to exploit," Kanka says. "But the media will take whatever you give them. If you only give a little, that's all they will get."
Kanka says she never felt exploited by the media. "I always controlled the agenda," she says. "I knew I could walk away."
Still, there was a cost to making herself available. "Losing your privacy is a tremendous loss," she says. "Going from being a Mom of three children and a wife to a public image is very uncomfortable. The media does that."

Bruce Shapiro is one of seven people stabbed and seriously wounded on August 7, 1994, in a New Haven, CT, coffeehouse near Yale University, where he teaches.
Bruce Shapiro's worst experience with the media was not the cold calls to his hospital room asking for interviews just hours after he'd undergone surgery for multiple stab wounds. He was barely able to talk, but he was quite able to say no. He also understood those requests—after all, he's a journalist, a contributing editor to The Nation magazine.
The worst experience came several months later when he was watching the local TV news. This time, he had no opportunity to say no.
"I broke into a cold sweat, I felt a rush of adrenaline like a shot of caffeine," Shapiro says.
What triggered the reaction was video of him, covered in blood, lying on a gurney. The station had pulled the B-roll from the night of the stabbing and used it in a story about legislation extending prison terms for criminals. "I was really, really angry because it was being used out of context, to illustrate a story that had nothing to do with my experience," he says. "I had become stock [footage]."
Seeing the video left Shapiro feeling retraumatized and powerless. "I didn't have control over my own story," he says, "and the only thing victims have left is control over their story."
Shapiro says broadcast journalists need to understand that showing a victim's image has consequences for that victim, emotional and physical. "It may not be possible to require releases to show or reshow footage," he concedes, "but it would help victims a lot if stations would ask permission."

Lenny Skutnik was hailed as a hero after he dived into the icy Potomac River to rescue a survivor of the Air Florida crash on January 13, 1982.
The reporters were waiting for him in the pressroom at the hospital where he'd been taken for a warm bath and a checkup. Tired and bleary, Lenny Skutnik didn't think much about it. He answered their questions and went home. That's when he got his first clue that things were going to be different for a while.
"My wife was going crazy," he says. The phone was ringing nonstop. And Skutnik was learning how the news media operate.
"I did one network and another one called, so I asked them to call the one I just talked to." He laughs. "I had no idea. I'd never been through anything like this before."
Skutnik says he tried saying no a few times, but the reporters just kept calling until he agreed to talk. They all wanted a story. Some, he says, were professional and kind. Others were plain rude. "They came to my house, moved the furniture, helped themselves to the coffee," he says. "I was just a story. I was an assignment to them."
A few good things came out of all that unwanted attention—he heard from people he'd lost track of years before—but it didn't change his life. Skutnik still lives in the same house and works the same federal government job. And he still can't quite figure out why he became a media magnet. "What I did wasn't that great," he says. "If it happened in a small town, I don't think it would draw the same attention."
He does have some advice, however, for anyone else who faces a similar situation. "Get an agent. If you can't get money out of [the media], don't do it."

Mitchell Wright's wife, Shannon, a teacher in Jonesboro, AR, was killed in the shootings at Westside Middle School, March 24, 1998.
Sneaky. Insincere. Intrusive. Mitchell Wright saw it all from the news media after the Jonesboro shootings. Television producers got into his home by pretending to be friends of the family. Reporters said they were sorry for his loss and, without missing a beat, asked if his wife had been pregnant when she died.
It was hard enough dealing with the murder of his wife. Having satellite trucks parked outside his home and camera crews tracking his every move made it even tougher. "It was like you were a criminal or a celebrity. Wherever I went, there was someone behind me," Wright says. "There was nothing normal about it. You can't grieve."
Wright says he understood that the journalists had a job to do, but based on his own experience as a salesman, he believes they could have done it better. "In sales, you build rapport before you go for your close. News people could learn to do that."
While he was offended by the behavior of some journalists, Wright says he was also grateful for the chance to talk at length on programs like Dateline NBC about his wife and his pain. "It probably helped me come to terms with what I was dealing with."
For the most part, Wright says, the media treated him fairly, with the local media showing the most restraint. "They have to live with us," he said. "We had no problem with them whatsoever."
One local reporter in particular made an impression on Wright. Diana Davis of KAIT-TV in Jonesboro interviewed Shannon's parents, and later did a story at their request about the outpouring of support the family received from strangers all over the world. She met Wright while doing that story, and as Diana puts it, "A friendship developed." Earlier this year, she and Wright were married.

Bob and Pat Younts were among the hundreds of people who lost their homes when deadly tornadoes smashed through Moore, OK, May 3, 1999.
Pat Younts was cleaning up what was left of her belongings when a television crew turned up on what used to be her front lawn. "They were very nice," she remembers. "The fact that they seemed sympathetic made me open to [talking with them]."
Mrs. Younts wound up giving the crew a tour of her devastated home. "They had her point out things instead of asking her, 'Tell us about that,'" says her husband. "She got to have control."
A year later, Bob Younts had a similar experience with a newspaper reporter doing an anniversary story. "He had a list of things he wanted to talk about," says Younts, "but he let me pick the things I wanted to talk about. That's so refreshing."
He believes the media coverage of the tornadoes had a positive effect, helping people in his community recover from their loss. "It's cathartic," he says. "It's good to see and read how people are doing. It helped them get over it."
Pat Younts says the coverage had other pluses, too. "There was an outpouring of support from people all over the world. They're still coming with help and supplies."
The Yountses both say they weren't predisposed to like the news media—they've seen too many stories about other people's tragedies, in which they felt the journalists were insensitive and intrusive. But their personal experience was different. Bob Younts, who is pastor of First United Methodist Church in Moore, OK, says, "We were dealt with compassionately."
"It has been a wake-up call for me," says Pat Younts, "in that I am as bad to stereotype the press as I think they are with others."

Donald Nibert's 16-year-old daughter Cheryl was killed in the crash of TWA flight 800, July 17, 1996.
When Donald Nibert and his wife arrived at the Ramada Inn near JFK Airport where relatives were waiting for information about the crash, they were stunned by the size of the media pack outside.
"There was a gauntlet we had to go through," he says. "A hundred reporters and cameras, at least." And that was just the beginning. When Nibert and his wife, Donna, went outside for a breath of air, they became magnets for media attention.
"We had a guy crawling under a bus with a TV camera trying to get a picture of [my wife] because she was crying," he says. "We were going through a grief period, which should be private, and the media interfered with this process."
The unwanted attention didn't stop when the Niberts went home to Montoursville, PA. "They would call the house 20 times a day," he says. "I could be civil for one or two calls, and then I'd blow my top. It's like telemarketers, only much worse."
Nibert says he saw no real difference between broadcast and print media—they were equally aggressive and intrusive. The lowest point came when a New York newspaper ran a picture of the Niberts, taken without their knowledge, as they selected a burial plot for their daughter.
"My wife just broke down in tears," says Nibert. "And I was as angry as I have ever been. I already felt that I had failed to protect our youngest daughter, and here I had failed to protect my wife in another situation."
Nibert says he's seen no evidence that the news media have changed the way they deal with victims of tragedy. "I don't think it's possible," he says. "When a disaster hits, they're going to be all over it and to hell with the victims' families."
(This article was originally published in RTNDA Communicator, September 2000)
You might also like
---