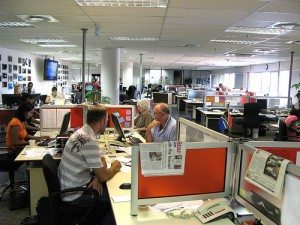 Phone calls, email, social media: Journalists today are more accessible than ever. Soliciting comments, video and photos on the Web opens up the newsroom for input from the community; so does crowdsourcing on Twitter or Facebook. But how much interaction with readers, viewers and listeners takes place face to face?
California Watch, an investigative start-up based in Berkeley, recently did a little experiment that forced journalists to meet up with people in public. The idea was born out of necessity, says multimedia producer Mark Luckie, when the group moved to a new office. For one day, everyone had to work somewhere else–in his case, a neighborhood Starbucks.
Only a few people stopped by to talk about journalism, Luckie told me by email, but he still thinks it was worth it.
I definitely felt proud about doing my work in public for a change instead of hiding in the confines of the newsroom. Doing work among the people we report about made me feel a greater connection to my stories and I definitely want to do it again soon.
California Watch editorial director Mark Katches says he hopes to hold more open newsroom days, at least once every three months. "It's a way to connect with readers and communities," he says.
A European news group has gone that idea one better. PPF's Nase Adresa (Our Address) publishes weekly newspapers and hyperlocal Web sites in the Czech Republic. And their newsrooms are permanently located in or adjacent to coffee shops. So far, the group has coffee shop newsrooms in three regions; the city of Olomuc alone has seven. As Roman Gallo, director of media strategies at PPF told the New York Times. "It's a feeling for the reader that you can touch your editor and tell them what you want."
With many newsrooms now expecting reporters to shoot, edit and file from the field, I'm wondering if any of them have set up a semi-permanent office at a local coffee shop. If you've done it or you know someone who has, please let us know!
Update: July 26, 2010
The Washington Post is trying an experiment in "coffee shop" journalism this week. The paper's website says six reporters will be in coffee shops around the D.C. region "to find intriguing stories about you. They'll write up what they discover and then you — the reader — will have the chance to vote on which story will appear in the print edition of The Washington Post."
You might also like
---