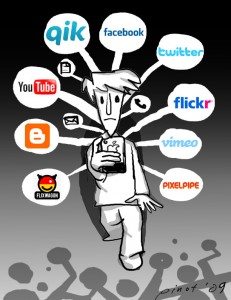 It's no secret that television newsrooms are expecting more production from everyone on staff. And there's nothing really new about reporters being expected to file multiple times a day for multiple outlets. Heck, I did that 30 years ago at CBS, filing for radio and TV. But a recent story on TVNewsCheck about this new reality highlighted some of the ways in which technology has made journalism faster but maybe not better.
Exhibit A: Reporters who are expected to snap photos with their iPhones and post them online, even before they've done any reporting. "We have [an informal] policy where we take pictures first and ask questions later," KMOV's Maggie Crane is quoted as saying. "Before I even walk in and ask what happened."
We've done that forever, of course–shoot first and then figure out what's going on. But it used to be that we'd need some answers before those pictures went anywhere. Not all of the answers or even most of them, but some at least. Posting photos or video without any real information just doesn't seem like journalism to me. It's something anyone can do if they happen to be in the right place at the right time.
I know all the arguments about news in the 21st Century being more about process than product. And I'm not suggesting that journalists should sit on what they discover until they can flesh out the whole story. But journalism is about context, not just content. Feeding the Web and social media and chasing the story are two separate tasks, David Michela of Internet Broadcasting told TVNewsCheck, and it's difficult to do both at the same time. But that's what TV newsrooms expect.
Unfortunately, I think it has evolved to the point where they realize the lifespan of the TV-only reporter is diminishing. There is a need for them to disseminate information on any platform. If you can't do that, your days in the field are probably going to be numbered.
He's right about that. And I have no problem with journalists being required to know how to distribute their stories on multiple platforms. What troubles me is how often they're expected to do it and at what expense, not just to themselves but to public understanding. If there's no time to report, to synthesize, to understand, then news becomes GIGO. Garbage in, garbage out.
You might also like
---