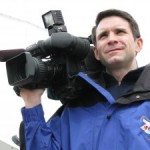 As more and more journalism professionals find themselves working both in front of and behind the camera, many are looking for suggestions on how to do it all well. Marc Schollett of TV7-4 in Traverse City, Michigan could be the poster child for this dilemma. Schollett not only shoots his own stories, he anchors three newscasts a day as well.
On AR&D consultant Bob Kaplitz's blog, Scholett offers this advice to other multimedia journalists:
1.)Don't think of your video as an afterthought. Good video might save a story, but poorly shot wallpaper video will certainly ruin one.

2.)Don't complain about carrying gear. There are hundreds of darn good reporters out there who are carrying resumes right now who would kill to be carrying gear.

3.)Don't forget what it's like to be a viewer. See each day's story as if you were watching it from home. Did you get the take home message across? Did you like video? Did it all make sense? Would you want to watch it again? Would you need too?

4.)Don't rush the writing. That's where real mistakes are made.

5.)Don't use being a one man band as a crutch or an excuse. It's the wave of the future and a great skill to have.
You might also want to check out Schollett's advice for managing time as an MMJ – anyone who can physically survive anchoring three shows and turning a story every day has got to know something about time management, right?
You might also like
---