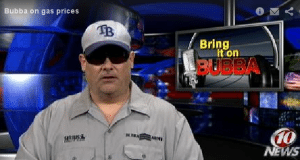 Wearing dark sunglasses and a baseball cap, Bubba the Love Sponge brings it on. "Oil prices are a scam," he roars. "A select few people are getting ultra-rich on the backs of the American family!" It's classic Bubba, the same shock jock shtick he's been doing for years on the radio. What's different now is the setting—a local TV newscast.
Bubba the Love Sponge, formerly known as Todd Clem, exemplifies the latest effort by television stations across the country to attract more viewers for their local newscasts. Commentary, once shunned by local stations as too controversial, is now seen as a way of drawing attention in a crowded media marketplace. In the past couple of months, it's popped up in newscasts from New York to Kansas City.
WTSP, the Gannett-owned station in St. Petersburg, Fla., brought Bubba on board in February, not coincidentally in the middle of sweeps, and he's still going strong.  His commentaries air three times a week at 11 p.m. While the newscast is local, Bubba's commentaries frequently aren't. He's weighed in recently on Libya, violent video games and Donald Trump.
It's an odd alliance, to say the least. Bubba hosts the top-rated morning radio show in the market and boasts on the Web that it delivers "a good ball-busting." WTSP is affiliated with CBS, the network with the oldest lead-in audience for the late local news. What are they thinking?
"We were looking to provide thought-provoking commentary but do it in a way that is different from other stations," said Peter Roghaar, WTSP's news director.
Different, it is, especially compared to what local newsrooms used to do. Decades ago, on-air editorials were commonplace but rarely contentious. Back then, stations took pains to avoid ruffling feathers for fear of driving viewers away. Today's commentaries are all about stirring the pot.
Consider Joann Augello, "the real housewife of Bensonhurst," who's become a regular fixture on WNYW, the Fox-owned station in New York City. The 10 p.m. newscast features her in a segment called City Rant, and rant she does, about everything from sky-high electric bills to the lack of parking spaces in her Brooklyn neighborhood. "Park the car on the roof! Where the f— else are you going to park these cars?" she screeches. Good thing Augello isn't live so the station can bleep the obscenities.
Not all local commentaries are quite so off-the-wall. Gannett stations in Atlanta, Columbia, S.C., and St. Louis all started running segments this year called "I'm Just Sayin'," featuring politicians, newsmakers, local celebrities and just plain folks weighing in on the issues of the day, from tax rates to Kobe Bryant's use of a homophobic slur.
"We're always talking about having a conversation with the viewer and this is a way for them to talk to us," said Marybeth Jacoby, news director at WLTX in Columbia. "It really does help up understand our community better."
Does she ever worry that a commentary will go too far and offend the audience? All the time. "Evoking emotion is good but we don't want to disparage anyone," Jacoby said. To play it safe, a station committee approves all commentary topics in advance and scripts are reviewed before segments are taped.
At WTSP, Roghaar admits that Bubba's in-your-face style has irritated some viewers admits, but on balance he believes adding the segments has been a plus, especially considering the free publicity the station gets when Bubba promotes his TV appearances on his morning drive radio show. "The commentary has helped us retain our audience through the [11 p.m.] newscast and has recruited new viewers to our newscast," he said.
With Fox News and MSNBC thriving in prime time thanks to sharp-edged opinion programs, it was probably inevitable that local stations would turn to commentary in the hope that ratings would follow. After all, as the comedian Fred Allen once said, imitation is the sincerest form of television.
There's no doubt that too many local newscasts are clones of each other, with look-alike anchors and predictable stories. Commentary can help a station stand out from the pack, but there's a fine line between clever and cheesy and stations cross it at their peril. Trying something different may get people talking, all right, but will it really make them watch?
Originally published in American Journalism Review
You might also like
---