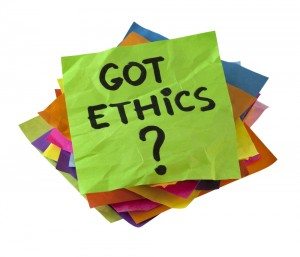 Picture this. You're on day two of a TV news shoot out-of-town, working with a freelance crew. Location: a high school auditorium. Day one was a morning session and the house lights were on. The photographer got plenty of shots of the action on stage and the audience reaction.
Now it's the evening of day two. The stage lighting is theatrical–lots of colored gels and spotlights–and the house lights are mostly off.  As the crowd applauds one of the acts, you ask the photographer to get reaction shots.
"Just use some from yesterday," he says. "The lighting was better."
Well, yes, it was. But seriously? At first I thought the photographer was joking, but he didn't just suggest this shortcut once. The second time I asked for more cutaways he repeated that he'd shot reactions the day before, and besides, he added, "Who would notice?"
Where to begin the list of all the ways in which this is just plain wrong?
Who would notice? I would, for one. But the audiences for the two events were different. And if just one other person noticed someone else in a cutaway where he or she was sitting at the evening session, all bets would be off on our credibility. If we were willing to cut corners for something so trivial, who's to say we hadn't cheated in other ways, or simply made something up?
Besides, even if I was the only one who knew the shots weren't made at the same event, doing what the photographer suggested would deliberately mislead the audience about what actually happened. The NPPA Code of Ethics could not be more clear: "Do not manipulate images or add or alter sound in any way that can mislead viewers or misrepresent subjects."
In case you're wondering, the photographer in question has years of experience and has worked for network news programs. He has a great eye and shoots terrific stuff. I guess this just goes to show you that even a gifted photojournalist can have a blind spot.
Got ethics image via Shutterstock
You might also like
---