Clubhouse is a new voice messaging application, launched in March 2020, but still in the developing stage. For now, it is only accessible to iPhone users and — that's what makes it so interesting — only to people who get invited to join.
The app blew up a few weeks ago when Elon Musk tweeted about it and held a whole speech on the social media platform with Robinhood CEO Vlad Tenev. He even invited Vladimir Putin, the president of Russia, to have a conversation on the platform.
The way it works is pretty simple: it is like tuning in to a live phone call, where users can listen to conversations and interviews on diverse subjects. A conversation room opens when a conference starts, and speakers are doing the talk while the audience is listening like they would attend a Zoom meeting for instance, but without the video. However, there is no recording of the conversations: once it is over, the discussion disappears. It cannot be found and listened to later like a classic podcast.
Brad Conaway, visiting professor of Integrated Marketing Communication at the University of Mississippi, is interested in seeing how this app is going to evolve.
"The cool thing about [it], or the thing about it that is drawing a lot of attention, is that it's very much like the early days of Facebook. Because the first couple of years that Facebook was out, not everybody could get on it, you had to be invited. It is the same thing with Clubhouse, you have to know somebody and be invited into Clubhouse. It's very exclusive for the moment," explains Conaway.
The exclusivity is definitely part of the app's marketing strategy, advertising it as an "elitist" platform, but it is also related to the novelty of the media. The more people will join, the bigger the audience will get.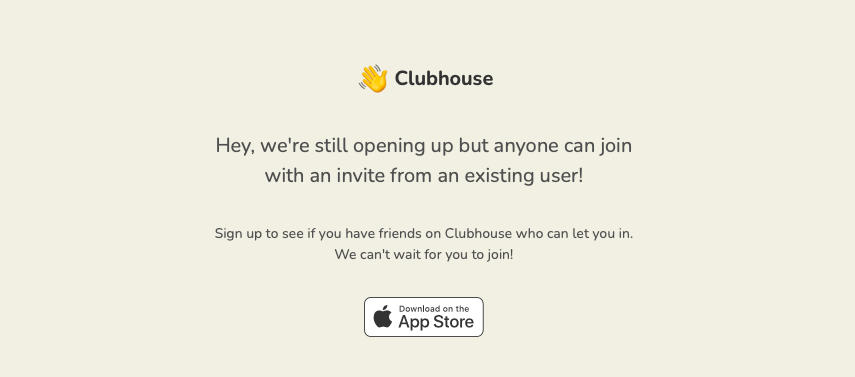 Isabella Echeverria, a new Clubhouse user, was able to explain the logistics of the platform. She started with how she managed to get in.
"When you sign up, you go on a waitlist, or you can be invited by someone. Once you get on the platform, you get 2 invites. And then, as time passes by, they give you 3. So I signed up and I didn't have an invitation from anyone so I was on the waitlist (for less than 24 hours). Once you are inside, it connects your phone to your contacts," says Echeverria.
From that point, when someone from your contacts wants to get into the platform, it sends all of their contacts who are already in a notification asking "Do you want to let them in," and you can pick yes or no.
"When you let someone in, the good thing is that you're not using one of your invites. And the other cool thing is that when you let someone in, at the bottom of their profile it will say 'Invited by' with my name or whoever's name it is," continues Echeverria.
It is all about networking. Knowing the people who are already in, in order to access the content. But what content can you find on it, you may ask. A variety of topics, and speakers.
"Once you create a profile, it asks you what are your tastes: music, well-being, gender, religion, politics… It asks you all these different things and based on what you click, it will recommend you to follow certain people," says Echeverria.
So far, she likes using Clubhouse because of how convenient it is: you do not have to be "camera-ready" since it is an audio-based app. It can be accessed from anywhere, touches a great variety of topics in a wide range of languages. Right now, some influencers already start to organize and schedule their talks: every Wednesday at 8:30 am that particular person will make a talk about a certain topic, and Clubhouse even sends notifications to their followers once they are live. Because of that, Echeverria does not necessarily believe the app will become as addictive as Instagram or Facebook for instance, for there needs to be a conversation already on to be able to join a room. However, that might change once the app opens up and gets rid of its "invitation only" policy: she believes the platform will be more fun once more people join.
Jason Cain, assistant professor of integrated marketing at the University of Mississippi, also managed to join Clubhouse after receiving an invite from a professor at another university. He was able to provide a deep analysis of the media and its future, for he believes that Clubhouse — still being in its early stages — will keep evolving in a way that might surprise its developers.
"I think Clubhouse right of today may not be what it becomes as users appropriate the technology to fit their own uses," says Cain.  "You can look at other platforms like Snapchat and Twitter that kind of started thinking they were going to be one thing yet ended up somewhere quite different to see past examples.  Twitter was a product of the blog era and based on the notion that people will want to microblog and share those thoughts with friends, which is quite different from what it has become."
Cain adds that apps can also influence other apps like Snapchat and TikTok have influenced Instagram's evolution in the last ten years. He believes that even if Clubhouse itself is a flash in the pan, its popularity could have lingering effects on other, larger social media if the concept behind it is popular enough.
"Will Clubhouse have legs?  That remains to be seen, but anyone who considers him or herself savvy to what is going on in the world of social media would be wise to keep an eye on it and see what develops. It could go the way of Google+, but it also could be the next TikTok. While I wouldn't go all-in on a Clubhouse-centered advertising campaign just yet, I would definitely keep an open mind to the opportunities that may develop there. I think anyone working in any area of digital media should make a habit of keeping up with these technologies when they seem to explode. If you wait until it is clear that a platform is going to have some longevity, you have probably also missed your opportunity to be an innovator in that space," concludes Cain.
You might also like
---