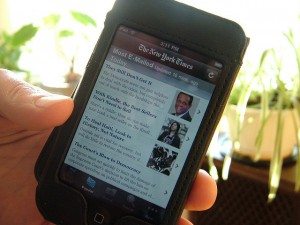 Smart phones are revolutionizing journalism much the way computers did 20 or 30 years ago. But it's going to take time for newsrooms to adapt to mobile newsgathering and distribution because it requires a new way of thinking, says Louis Gump, CNN's vice president for mobile.
"People assume that the mobile device is just a smaller computer with a smaller screen and that's a really big problem," Gump told a conference in London. "Mobile is as different from online as TV is from radio."
Sounds right to me, but lots of mobile apps for news still look too much like shorter versions of what's posted on the Web. They haven't yet taken advantage of the potential for geolocation and augmented reality. Gump said CNN is working on that. "We're looking at ways to deploy mobile to tell the story differently."
More and more mobile phones now come equipped with high-quality video cameras, but most major news organizations still aren't using them to shoot stories. Instead, they've become more willing to accept mobile video from citizens, as CNN does on its iReport site. "No matter how big we are we can't be everywhere," Gump said.
Reporting via smartphone
True enough, but even when you can be somewhere you can't always use the standard tools of the trade. When the G20 met in London last year, Alex Wood of Not on the Wires was able to cover the story when TV journalists couldn't after the police corralled the news media and refused to let anyone pass tapes over the barricades. Using a mobile phone and a WiFi signal from the Bank of England, Wood had no problem getting video out.
What does get shot with mobile phones tends to look different, and not just from a quality standpoint, said Andy Dickinson of the University of Central Lancashire. People tend to talk directly to the camera because it's not on a tripod. "It removes the distance between the subject and the audience," he said. Jonathan Hewitt of City University said that mobile journalists themselves are more likely to be invisible to the audience since they're usually not seen on camera.
But Wood argued there's no reason not to use every available tool to tell a story. "Why not use your mobile phone to do your vox pops?" he asked. "There's nothing wrong with you then putting that into a more traditional package. It's another tool in the ever expanding toolkit that journalists have now. We can still take things from broadcast, for example framing a good shot and having good audio. Let's go back to the basics but use them in the new technology."
There's a time and a place for mobile news, Dickinson said. "If you've got that benchmark interview with President Obama, there are times when a good quality camera will always serve you well. There are times when the iPhone or Flip will do. I think it's about making an appropriate choice."
In the end, mobile is just another tool that belongs in any journalist's gear bag. As Wood put it, "People need to get their heads around the fact that it's not just a camera, it's a distribution device."
You might also like
---