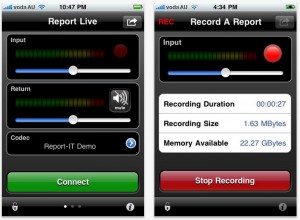 When NPR's David Folkenflik called me for an interview last week, I wasn't sure I could oblige. The usual routine involves my going to their DC studios for taping and my schedule that day just wouldn't allow it. Turns out I didn't need to, as long as I had an iPhone.
NPR sent me a link to download Report-IT Enterprise, a free app from Tieline that lets users record or broadcast high-quality audio over WiFi or 3G from their iPhones. NPR provided a log-in and password so I could connect to their New York studio server. And that's all it took. My side of the phone interview was recorded on my iPhone. When we were done, all I had to do was tap one button to upload the file directly to NPR.
While the app is free for users like me, news organizations have to buy the proprietary Tieline codec and pay an annual server license fee. NPR was an early adopter (pdf). "In general we've found that even the most technically challenged guests can follow basic instructions (which we provide) for installing the app and connecting to NPR in as little as 5 minutes!" says NPR's Chris Nelson. For my interview, I took one additional step: I put the iPhone in airplane mode and then re-enabled WiFi to ensure that the interview wouldn't be interrupted by an incoming call or text.
Charlie Mayer, director of operations for NPR News, says Report-IT is the ideal way to deal with bad Internet connections or drop-outs during live-to-tape phone interviews. The audio is recorded simultaneously in studio and on the iPhone. The iPhone recording is FTP'd back to the studio afterwards "to sync with the original recording if artifacts or dropouts occurred during the live interview."
How's the quality? Judge for yourself. And color me impressed.
You might also like
---