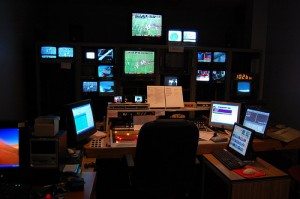 From the outside looking in, the job doesn't seem that hard. "I remember as a producer looking into that news director's office and wondering, 'What the hell do they do all day?'" says Kathleen Choal, news director at KVOA-TV in Tucson, AZ. "All I see them doing is talking on the phone and watching TV!" She knows better now.
A news director's job is part admiral, part accountant, and all consuming. It's the kind of job you're never really prepared for, but you're still expected to step in and do it well from day one. A little advice would be nice, right? Whether you're a first-timer or a veteran, the lessons others have learned along the way can help you adjust to a new job or a new station.
As eager as you are to get started don't rush in, says Kathy Williams, vice president for news at KRIV-TV in Houston, TX. She had years of experience as a news director in Cleveland before taking her current job, but she still made the mistake of moving too fast. "I had a week and a half off [between jobs], and a six month old baby," she says. "That first six months [at a new job] the family gets cheated so take care of them before you go in. You can't get that time back."
Take it slowly after you arrive, as well, advises Angie Kucharski, station manager at WBZ-TV in Boston. "Give yourself time, don't feel like you have to fix something day one," she says. "Give yourself time to get in, learn the room, learn the people and listen for a while." Even if you've been promoted from within, take time to meet one-on-one with the entire staff. Put aside your preconceptions and find out what they believe their challenges are. "You see a different side to people you don't see when you are not in charge, good and bad," says one former assistant news director who moved up to the top job.
"The best piece of advice I could give a new news director is not to allow the general manager or other department heads to tell you about the people you're going to be working with," says Anzio Williams, news director at WDSU-TV in New Orleans, LA. "If they want, they can write you a letter to tell you what you're going to run into, you seal it up and open it after 30 days." Clear Channel's senior vice president of news Steve Minium goes even further: "Don't look at the personnel files for the first six months," he advises.
While you'll probably want to hold off on making major changes, you may be able to do some things quickly that will set a positive tone. News director Scott Picken of KIVI-TV in Boise, ID, offered "30 fixes in 30 days" when he first arrived. He asked the staff to tell him everything that needed work, picked the easiest problems to solve, made a list that he shared with the newsroom, and checked things off as they were accomplished. "People see progress and get on board," he says.
Veteran news director Bob Morford, now at WCPO-TV in Cincinnati, OH, suggests asking the general manager for a "honeymoon gift" of cash to spend on equipment. "The bonus for that is huge," he says. "The quality of the product gets better, and photographers will talk positively about you as they drive reporters around."
As you settle in, be sure to stay in touch with the news. It's not always easy with so many demands on your time. News directors commonly spend at least 60 percent of their day on non-journalism issues—administration, personnel, budgets and the like. But news directors who are successful have three things in common, says Rob Mennie, vice president at Gannett Broadcasting. "They attend the morning meeting and the afternoon meeting, and they watch their newscasts," he says. "How basic and simple is that?"
Now that you're in charge, you might think you're supposed to have all the answers. You're not. Find a peer in a similar market, a former boss or even a manager in another business you can contact with questions or brainstorm with. "Walk in the door with a couple of [mentors] in your back pocket or you'll make mistakes you don't have to make," says KRIV's Williams.
One mistake to avoid is thinking you can be everyone's friend in the newsroom. "Never share confidential or personnel information with subordinates, and never share your frustrations with your boss or others with them," warns Jim Turpin, director of news and content for Clear Channel Television and news director at WPTY/WLMT-TV in Memphis, TN. "Be their leader, their mentor, their coach. Be professional at all times, treat people with dignity and respect, but don't try to be their buddy." Establishing that distance can be especially difficult for news directors promoted from within, but it's important to avoid the appearance of having a clique of special people in the newsroom. At the same time, expect your staff to have a clique that doesn't include you.
Another mistake some news directors make is underestimating the importance of their relationship with the general manager. Invest time in getting to know your boss and how he or she likes to communicate. Talk with your GM frequently to clarify the mission and objectives he or she is counting on you to fulfill. Schedule time periodically to ask for feedback and an assessment of how you're doing.
Finally, remember that you can't and shouldn't do it all. "I would like a big sign in every news department: 'There is no badge of honor for working more than 10 hours a day,'" says Joyce Reed, vice president of strategy for Griffin Communication. Create a system that allows you to delegate, so you can focus on what's most important and also have some time for yourself. "Train your staff so that they can do the job without you," says one news director. "Then trust them to do it." Set a firm time to go home, and stick to it.
"The best piece of advice I can offer is that one has to leave the office behind at night and on the weekends," says Turpin. "Of course we have to be there when things 'blow up.' But having a life outside the newsroom is nearly as critical to long-term success as is doing well inside the newsroom."
Originally published by RTNDA Communicator Magazine, February 2007
You might also like
---