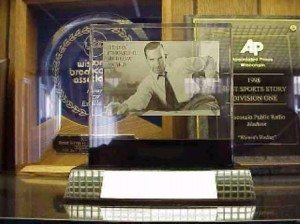 It's that time of the year again: time to enter a journalism awards contest. NPPA's Best of Photojournalism competition opens for submissions today; RTDNA is now accepting entries for the Murrow Awards. If you're sending your work to any of the award competitions, give yourself the best possible chance of winning by reviewing these tips from a frequent judge (that's me).
Follow the rules. Seriously. Make sure your entry is in the right format and submitted in the appropriate category. Some groups allow judges to move entries around, but many don't. Your fabulous feature could wind up being ignored if it's mistakenly entered under "spot news."
Check your entry. Is your video clean? Is the audio clear? Judges can only base decisions on what you send in, so make sure it's the best it can be. I've seen all kinds of screw-ups on contest entries: fuzzy video, badly-mixed audio, incomplete stories. Trust me, none of them made it to the second round.
Beware of gimmicks. Bear in mind that judges will be reviewing dozens of stories back-to-back-to-back. That cool thing you tried may look trite and tired if the judges have already seen the same thing multiple times in other people's stories. Go Pro video, for example, was last year's overused technique. Stories that used it when it wasn't necessary wound up at the bottom of the pile. Same goes for stories with still photos in frames propped up in the out of doors. And music, most of the time.
Consider every element. A TV piece that's well shot but doesn't tell a focused story isn't going far in any competition. Gorgeous video can be undermined by an uninspired or corny narration. Writing well to video doesn't mean stretching for puns. Enter stories that measure up on every level and your chances of winning are much improved.
I love judging contests and I'm thrilled when I get to screen fabulous work, like this story from photojournalist Chris Hansen and reporter Chris Vanderveen.
In 2014, "Lorraine" won the NPPA News Features category and helped KUSA win station of the year. Great work. Maybe this year, your entry will blow away the judges. Good luck!
You might also like
---