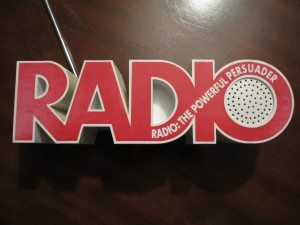 Travel the country as I often do and you won't find much local news on the radio. Consolidation has just about killed it. As a result, big city all-news radio stations and networks have lost their farm systems. "We don't have the minor league teams to draw on that we used to," says Harvey Nagler, vice president of CBS Radio News. But there's one major exception: NPR.
In an effort to spread its brand, NPR recently decided to stop calling itself National Public Radio but radio is still its heart and soul. And with 780 member stations, NPR has an impressive farm system, and often calls up some of the best to the big leagues. Reporters like Tamara Keith and Jason Beaubien, for example, got their start at local public radio stations.
NPR's long-form programs "Morning Edition" and "All Things Considered," feature radio storytelling at its best. The writing is crisp and evocative, and the stories make great use  of natural sound, which NPR executive Robert Garcia calls "the currency of the realm."
"It's what brings people into a story," Garcia says. "If somebody's in a Pakistani village you're going to be listening to [it]. You can practically taste the dust on the road."
As a regular listener to NPR, it's always seemed to me that the hourly newscasts just didn't measure up to the same standards as the programs. The writing was flat, most correspondent reports were straight voicers, many of the sound bites were from phoners of marginal quality and there was almost no use of natural sound. Garcia's been working to change that.
Now, some 50-second stories include multiple sound bites and nat sound. Instead of filing a report, a correspondents may discuss a story in a Q-and-A format with the anchor, which can run longer. The newscasts also are trying to respond faster to breaking news, something they were notoriously slow about in the past.
"We are getting much better at that out of necessity," Garcia says, "and I think that's because more people are turning to National Public Radio as their primary source of information. So it's incumbent on us to move more quickly."
About time, I'd say. Because the truth is, I care about radio news. I spent a lot of my early career in radio and it was a great place to start. CBS's Nagler says it still is. A lot of the best writers in the business, he says, come out of radio, "because you need to think on your feet and write concisely." There may not be as many places to learn that as there used to be but it's good to know there are still a few.
You might also like
---