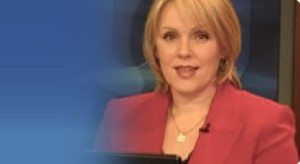 Amy Wood is a social media maven. She's on Twitter, Facebook and MySpace. She blogs, vlogs and chats. Oh, and in her spare time she anchors the news at WSPA-TV in Greenville, S.C.
Why does she do it and how does she manage to get it all done every day?
In a live chat at Poynter.org, Wood said she uses social media for lots of reasons: as a tool in breaking news, as a way to connect with viewers and as a means of keeping tabs on the community. "This really helps you see what people care about. What makes them tick. and ticked off for that matter," Wood said.
"I feature viewer comments on the air that come in on all my social sites," she said. A regular segment on the 7 p.m. newscast, "What You're Saying," runs about a minute. This one focused on the scandal involving South Carolina Governor Mark Sanford:
Wood gets "LOTS of tips on breaking news" via her social media sites. One of her Twitter followers told her a hostage crisis at a local bank had been resolved before the police announced it.  At 10 p.m., she chats live with viewers during commercial breaks and says it "energizes" the newscast.
For Wood, social media is not an afterthought. "It is my first priority. My greatest concern has to be my viewers," she said. "By virtue of sending out alerts all day and all night, I am completely engaged in news stories. I know them LONG before I walk in door at 3pm… so it enables me to focus in on the engagement and blogging."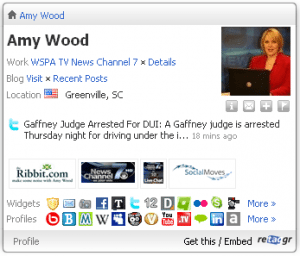 To keep from being spread too thin, Wood uses several tools to manage her social media presence: ping.fm and Hootsuite send posts to all of her pages, and a retaggr badge makes it easy for people to find her on their favorite social sites. She's also used Polldaddy and SocialToo for blog polls, Google Voice for online audio comments, and Seesmic for video comments.

So far, Wood has found Facebook "the best place to be" because it's most popular in her community.  "In our area we have tens of thousands on Twitter and a quarter million on Facebook." Wood recommends setting up a fan page on Facebook, not a profile page, in part because fan pages provide demographic information. "My Facebook fans, almost 7 thousand, are majority 24 to 55 and female.   our KEY demo!"
So how does she sort through all that input? By focusing mainly on what is sent to her attention, via Twitter direct messages and @replies, and Facebook wall posts. She also uses the search function for both services to home in on specific topics.
Most of the input Wood uses on air is in the form of comments. News tips are vetted just the way a call into the newsroom would be. "I just think it's the new way to connect that is more convenient than looking up a TV station number."
Her advice on how to get started? "Get on the sites and then start doing mentions in your shows.. maybe pick one hot topic to start with.. and put it out there.. then ENGAGE respond back, turn on text message updates from Facebook to your phone or get a comment system on your blog that will allow you to have updates emailed to your Blackberry so you can respond when out in the field."
Wood is a social media innovator but by her own assessment she's not a computer genius. She insists you don't have to be. If you're an observant person who is willing to experiment, she says, you can be an interactive journalist.

You might also like
---