Dick Starmann served in Vietnam and came home to join McDonald's, where over nearly three decades he rose from adverting manager to senior vice president of global communications before retiring.
He traveled to more than 100 countries for McDonald's to promote the company, better understand customers, deal with crises and other things, and became close personal friends of Ray and Joan Kroc.  After Ray died, he helped Joan with her investments (for example, the San Diego Padres) and managed her estate after she passed away.
He's a big deal, but a very down to earth guy.  I always enjoy our conversations.  He not only shares insights into the triumphs and challenges of the world's largest fast food restaurant but talks about his dinners with Pierre Salinger, visits with Richard Nixon in George Steinbrenner's box at Yankee Stadium, conversations with Margaret Thatcher….
And each time we talk, there's something that sticks in my mind.  This time, it was:
The last three feet. 
You see, for all the billions of dollars McDonald's spends on building its brand, (which in 2017 was ranked #12 in global brand equity by Interbrand) … for all the focus on product innovation and quality … for all the work that is going into their recent restaurant redesign and other things… the customer experience comes down to …
The last three feet.
That's the space it takes for a customer to step up to the counter (or lean through their window at the drive-thru) to place an order.  And that is where the McDonald's brand is really delivered.
If something goes wrong in that last three feet – if the employees aren't engaged, if the transaction isn't smooth, if the order isn't correct, if the atmosphere isn't pleasing, if the counter isn't clean – then all of the other marketing efforts are for naught.
I continually remind my students – and tell anyone else who will listen – that integrated marketing communication isn't just about good advertising or public relations.  It is the sum of each and every customer touch, be it a sign, a building, an employee, a scent, a sound, a survey, a website, an app, a phone call.  It is the little things, it is all things, it is everything.
I learned this back in my days in the financial services industry, where we realized our brand was just as much about the monthly statements and payment envelopes our company sent as it was the beautiful ads and promotions we created.
And it makes sense that for fast food restaurants if you mess up the last three feet, you mess up the brand.  That's very powerful to think about.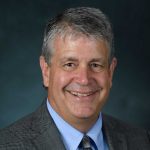 Scott Fiene is the assistant dean for the Integrated Marketing Communications program at the University of Mississippi's Meek School of Journalism and New Media.
You might also like
---