He-Man foils Skeletor's latest plan to capture Castle Grayskull. Peace-loving hippies attend a music festival in their Volkswagen Microbus. Colonel Sanders hawks his finger-lickin' good KFC meals. "The Candy Man," a hit song from the '70s, sweetly plays over a montage of M&M ads.
Great Scott! Has American society fallen into a time warp?
Although Doc Brown's "Back to the Future" time-travel dream has not yet been realized, marketers recognize nostalgia as an effective integrated marketing communications creative strategy. By using imagery, audio and branding cues that allude to fondly remembered associations, marketers can connect their messages to earlier times that resonate with consumers.
How do marketers use nostalgia to connect their brands with consumers' "good old days" in a powerful and effective manner?
What is nostalgia?
Nostalgia is seen as a preference for objects, locations or individuals that were more popular during a previous era, even if the consumer did not live in that period.
Marketers' use of nostalgia has been shown to pique consumers' interest and curiosity, instill a sense of quality surrounding the brand, break through the clutter and create positive emotional associations.
Generally, consumers seek nostalgic associations when there is a loss of trust in the future, during periods of transition and to confirm their identity. Marketers can present their brands as devices that allow the individual to relive those periods of perceived stability.
Nostalgia as a marketing appeal
Nostalgia is applicable to various message strategies. Products positioned to appeal to the consumer's ego will try to reaffirm one's identity.
In the latest campaign for Little Debbie, adults come face-to-face with their childhood selves, who remind them of how much they loved the brand's products in the past. These childhood reflections encourage their adult counterparts to embrace their past selves through consumption of the product and other habits they engaged in as children.
By associating Little Debbie products with childhood habits, the brand can connect itself to the joys of childhood that the individual fondly remembers. It also creates an opportunity for when that individual wants to revisit those days.
Brands wanting to associate themselves with social relationships have found nostalgia to be effective. Leo Burnett Chicago's ad for McDonald's Chicken McNuggets shows a split-screen scenario of a boy, seemingly in the 1980s, sharing some of his favorite items and activities, including his Chicken McNuggets, with a girl from the present.
When the boy crosses over the split-screen line, it is implied that he is the girl's father. The ad's message is to highlight how Chicken McNuggets have improved over time, but it resonates by sharing moments that an individual valued in the past with loved ones in the present.
Although an emotional appeal, brands have been able to embody rational appeals through nostalgic imagery.
McCann Erickson's latest spot celebrating 100 years of Chevrolet trucks presents a montage of past commercials. The montage reinforces the brand's commitment to reliability, dependability, ruggedness and longevity, with proof held in the brand's 100 years on the market.
Appealing to the brand's heritage, as well as recalling images that consumers would have been exposed to for probably all of their lives, merges both the rational and emotional appeal of the brand to communicate the brand's message.
Types of brands for nostalgic appeals
There are certain product categories and brands for which nostalgia can be easily used. A brand with a rich heritage, like Chevrolet, can exploit its past success through a brand narrative in order to appeal to present potential consumers.
By showcasing its longevity and its association to a more idealized time of the consumer, the brand can foster emotional associations with that target consumer. When celebrating a brand's anniversary, providing images of how the brand was connected with past times in society, and more importantly, in a consumer's life as part of certain milestone memories, is a powerful manner in which to elicit positive associations toward the brand.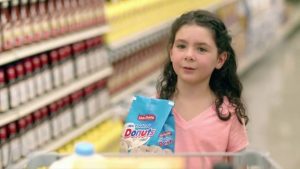 Dangers of using nostalgia
For certain situations and audiences, the use of nostalgia as an appeal will most likely fall flat. Time periods and associations must be relevant to the target audience in order to evoke the greatest positive associations.
What must also be remembered is that nostalgia looks at the past through "rose-colored glasses," meaning that it re-creates a vision of the past that most likely never actually existed for all individuals. Although certain segments of the population may have fond memories of certain time periods of history, other groups, such as those with a history of marginalization, may not ever see certain time periods as pleasant and do not wish to have associations with brands that uphold those time periods with reverence.
Finally, communication directly targeted to children—and not parents—tends to not be as conducive to using nostalgic appeals because most children will not have built up the life experiences necessary to actually have nostalgic associations.
Back to the future
Although nostalgia as a concept can be defined, each generation interprets the various elements differently, which makes the appeal so fascinating and dynamic. It is important for marketers to understand how consumers will accept nostalgic associations related to their brands and how these associations affect brand loyalty, purchase intention and other key marketing metrics.
Social, political, economic and cultural factors will play a role in how the past is viewed and favored, but companies that can leverage the past, build strong emotional bonds with consumers and become integral parts of consumers' identities, will be poised for a bright future.
As Phylicia Rashad's character, Dr. Marsh, states at Walt Disney World Resort's Dinosaur attraction, sometimes "the future is truly in the past."
Andrew D. Anglin is a Ph.D. candidate at the School of Advertising and Public Relations at The University of Tennessee, Knoxville. His research interest pertains to the use of nostalgia in integrated marketing communications. At UT he teaches a course in advertising's role in society. He graduated from the Meek School of Journalism and New Media's graduate IMC program at the University of Mississippi, and later he joined the marketing and sales strategy team for Disney Youth Programs, ESPN Wide World of Sports and runDisney, subsidiaries of The Walt Disney Co. Contact him at aanglin1@vols.utk.edu.
You might also like
---