Walter E. Hussman Jr., publisher of the Arkansas Democrat-Gazette, is a third-generation newspaper publisher who has next-generation ideas. His latest innovation? Giving away free iPads to his subscribers.
The Arkansas Democrat-Gazette in Little Rock has stopped printing the Monday-Saturday editions and instead is giving free iPads to those who will pay for his newspaper's content. Hussman refers to this business move as "the big gamble."
In 2018, facing a significant loss in profitability, Hussman had to make a tough call.
"I didn't want to cut my newsroom and I didn't want to cut the content," Hussman said in a recent presentation at the University of Mississippi. So, he and his team decided to invest $12 million in iPads for subscribers.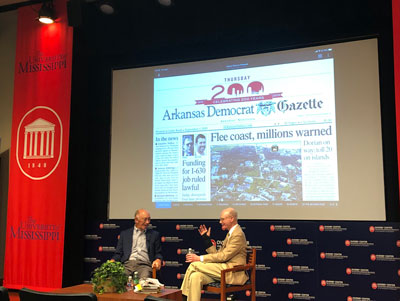 As long as subscribers continue to pay their monthly subscription fees, they will get a free iPad, the digital publication of the newspaper and access to all of the iPad's features.
"We want people to get so attached to the iPads that they don't want to give them up," said Hussman.
After a few false starts, the paper has seen an increase in iPad subscriptions. Though the first trial only pulled in two subscribers, now more than 20,000 have converted to iPad usage.
Channeling the "feel" of a printed newspaper was important to Hussman. The digital model offers interactive articles and photo galleries available in the format of a print edition. Hussman notes that his audience is largely older readers now, but he hopes to attract the younger generation through the digital paper approach.
Hussman is also determined to maintain the same amount of content as the paper has produced in the past, albeit on a new platform. "There is no future in giving people less and less paper while charging them more and more."
As the Arkansas Democrat-Gazette nears its 200th anniversary, Hussman plans to keep the celebration going with a goal of producing a profit again by 2020.
"What we're trying to do is create a newspaper of the future."
You might also like
---