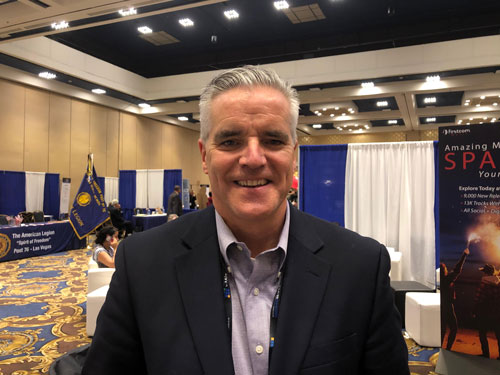 Bill Anderson is a veteran in the world of broadcast news. Anderson started out about 33 years ago when he accepted his first job as a photojournalist in Savannah, Georgia. A graduate of Missouri's Journalism School, Anderson has worked in multiple markets, including Tucson, Nashville and Houston. He later moved to Baltimore to work with Sinclair Broadcast Group as the director of Change Management for all Sinclair stations. Abbie McIntosh, a graduate of the University of Mississippi's School of Journalism & New Media, asked Anderson where he believes the broadcast industry is going.
Q: You've been in the field for so long. What's the biggest change you've seen?
A: The biggest change from 30 years ago obviously is the internet. When you go back and think about how television news stories were generated 30 years ago, they were generated on typewriters, you made phone calls in the fields at pay phones, where you were using a quarter and finding a phone to call the television station to share what content you had, to call your sources. You were using two-way radios. The technology made things so much slower. News was not a 24/7 product. Most television stations didn't have a morning newscast. We obviously didn't have a website in those days. You would produce a story for the 6 o'clock news and you would go home. Technology changed everything.
In the last five years, I think the biggest change has been, and where it's going in the future is the OTT: the over the top. (Initially named in reference to devices that go "over" a cable box to give the user access to TV content. On OTT channels, content is delivered via an internet connection rather than through a traditional cable/broadcast provider.) It's the Netflix of the world. It's everybody putting an app in that arena because if you look at the evolution of it, it went from newspapers, to radio to television and then you added in cable television. Then you added in the internet and with that came social media.
If you would have asked this question five years ago, I would have said social media, but now social media is all a part of it. What's really happened is it's these over-the-top things like Netflix and Hulu and STIRR, which is something Sinclair has, and that's where we're going to start connecting with people is through these apps. Again, I think the biggest change in the last five years is the technology.
Q: We use the internet in almost everything we do, and it seems like we can't do our jobs without it. How do you think we can use the internet in a smarter way?
A: There's a lot of data on the internet that most people skip. They don't do the deep dive. We tend to look at the headline, and one of the dangers is so much of what we write is aggregated where you have the links all the way through the article. A lot of the times that's the journalist saying, "I've got a new paragraph and I'm just going to take what someone else has published and link it." The biggest downside of the internet in our job, I think, is we're not doing enough original reporting where you're actually talking to say the police captain and not just taking their tweet and retweeting it.
In the old days, you would actually talk to the captain and while talking to him, they may just give you the standard one-line response, but if you knew the captain, he would say, "This is really a problem area" and then from there you ask more questions and this information is stuff nobody else would know other than you because you had that face-to-face or over-the-phone conversation. While the internet has been such a blessing to give us the speed of information, it's really cut down on this type of discussion where you're talking back and forth to someone you don't really know.
But I think, too, the data isn't being used. A lot of what we're trying to tell in stories is the "so what." Why does it matter? Some of that can be answered by doing deeper research on the internet that can be done rather quickly. Let's say something happens on campus. The "what is" is something happened on campus, but if you do deeper research, you may be able to find more information about how rare this is, or how frequent this is, if there's any advice from experts about this. Now your story has a lot more layers to it. The internet isn't being used well enough to give us the layers in reporting.
Q: Where do you see the industry going in the next five years?
A: Well first off, this is an unknown because nobody can read the future. But I do think the OTT is going to be a big play for a lot of people within the next five years. But I also think you'll start to see some media companies being more focused on positioning themselves and trying to become hyper-focused in certain areas where they target consumers on very personal hyper-focused "brands" that are a part of our identities.
For example, if you were to look at cable channels, most of them have a specific kind of brand. You look at the company channel, you know what you're going to get on HGTV, TBS or CNN. I think you'll see media companies continue to try to do things like that. But, too, I think you'll continue to see the consolidation of media companies. You've seen in this year Disney buy 21stCentury Fox. You saw AT&T buy Time Warner. That means AT&T owns Time Warner, which owns CNN, which means CNN headline news are under AT&T now. You'll continue to see consolidation.
Abbie McIntosh is currently a Communications Specialist for the school system in Cypress, TX.
You might also like
---