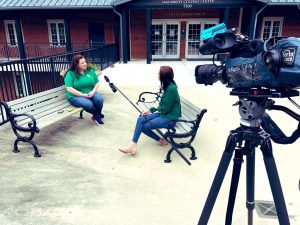 Working from home isn't an option for photojournalists, whose job involves documenting what's happening in the world. They're used to facing hazards in the field, from media-hating crowds to natural disasters, but COVID-19 is different.
"I have never backed down from an assignment of any kind. This I'm terrified of," a photographer at a small newspaper told award-winning freelancer Melissa Lyttle. "I love my job but I'm given no choice. Honestly, I'm scared to death."
The fear comes from the apparent failure of some employers to provide any protective equipment or guidance. But other newsrooms have instituted standard protocols to help their journalists stay as safe as possible.
At the San Francisco Chronicle, photo editors developed a checklist based on guidance from public health experts and feedback from photographers.
Before sending a photographer out on assignment, editors now have lengthy conversations with people they are planning to photograph to assess if it will be safe for everyone. For portraits, they ask if the person has been sick. When entering new spaces, they try to gauge if there will be room for physical distancing.
John Moore, a correspondent for Getty Images, has photographed people who are sick with the virus. For one shoot, he dressed in a full protective suit with a respirator mask.
"I had spoken with one of them ahead of time, so they would know what to expect and not be so taken aback when I showed up at the front door looking like I was wearing a space suit," Moore told CNN Business.
Photojournalists are used to treating their cars as their offices. Now, they're sanitizing those work areas and their equipment multiple times a day.
The New York Times advised its journalists on how to lessen risk and protect themselves and others during the pandemic, among other things, warning them to keep their distance.
Try to conduct interviews in outdoor spaces or use video chat platforms when possible.
It's tempting to sit close to your subjects, but fight your instincts or your desire to get close, as it might compromise your health or the health of your subjects, and your ability to report.
The Committee to Protect Journalists has a lengthy safety advisory to help journalists stay safe in the field, with tips on reducing risk, avoiding infection, and protecting their psychological well-being. Journalism can be a stressful job even in normal times. So please, be careful out there.
Photo posted by ABC 7's Heather Graf on Twitter
This post originally appeared on advancingthestory.com.

Deborah Potter is an experienced journalism trainer and reporter who spent 16 years as a network correspondent at CBS News and CNN. She is co-author of "Advancing the Story: Quality Journalism in a Digital World," now in its fourth edition. She writes regularly about journalism on the Advancing the Story website. For almost 20 years, Deborah ran NewsLab, the journalism site she founded in 1998, which is now part of the University of Mississippi. Deborah leads workshops for journalists in newsrooms across the United States and around the world on writing, social media, digital journalism, and ethics.
You might also like
---