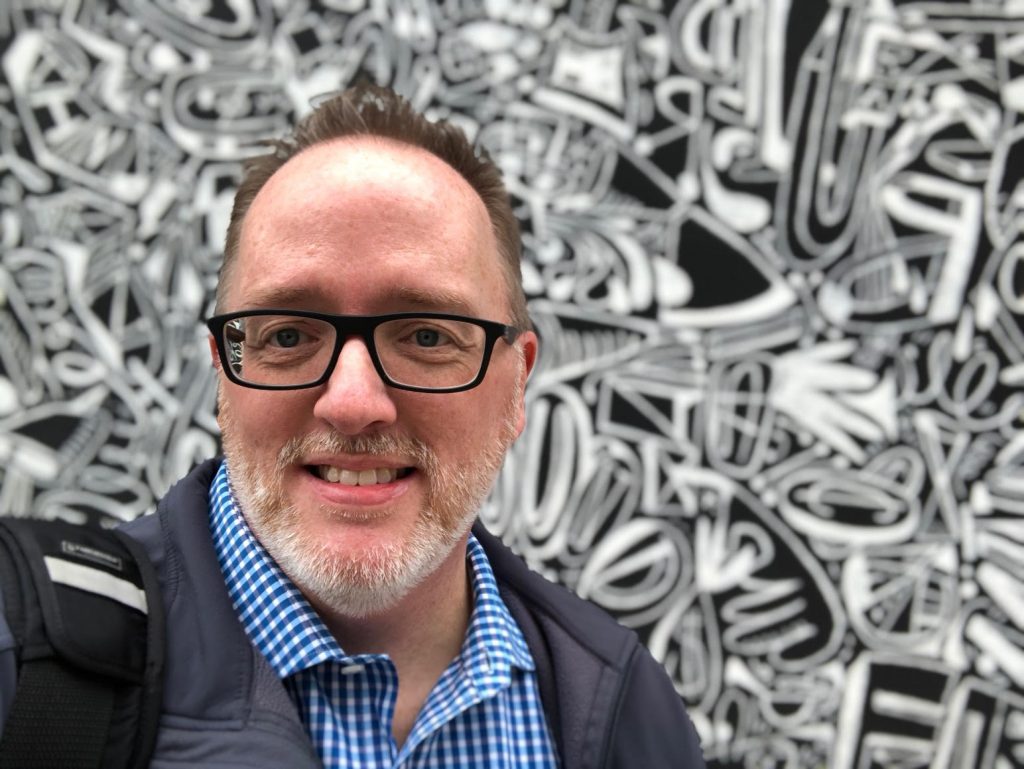 Steve Dorsey is currently the VP News Performance and Partnerships for GateHouse Media, Center for News & Design. Dorsey was previously the VP/innovation at the Austin American-Statesman, where he worked on product development & project planning and previously VP for R+D at the Detroit Media Partnership.
Q: When and how did you know that this was the line of work you wanted to do?
A: I've worked for newspapers in some form or another since before graduating high school. I was the editor of my student paper, but also was designing it (and redesigning it) along the way. I interned and part-timed at my local paper in numerous roles, but fell into a real rhythm in the production department where I learned all about the mechanical processes involved in building a publication.
I just ran with that at school and worked on the Daily Orange at Syracuse University, where I was lucky enough to have great teachers, peers and internship coaches who helped me develop and learn even more. I graduated with degrees in writing and editing, but I spent my time learning to design on the side. I was hooked. I felt like I could play a role and help convey all the day's stories at once.
Add to that the satisfaction of helping to build something new every single day that was delivered to an entire city, region or even state—what could be better? Not to sound too old, but in those days we also had access to the news wires that regular folks did not—there was no internet, twitter or cell phones—so there was a definite rush to sitting front row to an entire world of news.
Q: Where and what have you done before this current job?
A: I continued to grow from internships to early jobs and beyond. I was lucky to land a spot at the Poynter Institute summer fellowship, which really was like grad school and gave my career a catalytic jump start. I worked at the smallest J.O.A. (joint operating agreement) in the country in York, Pa. right out of college, and later ended up at the largest one in Detroit. I've worked for small local papers and larger regionals; and served numerous roles for Knight Ridder, Gannett and Cox Media before my recent roles in GateHouse Media. I was heavily involved in the Society for News Design for more than 20 years, where I learned a lot and met and worked with some of the greatest talents in the industry.
Q: How have your skills grown over the years?
A: I've always sort of fallen into leadership roles, either formally or informally. My path has shifted from hands-on design of a page or section, to coaching and leading an edition or publication, to even more than that. I've learned a deeper appreciation for mentorship, training, clear communication and organizational problem-solving in ways I never imagined I would.
I used to think if I just designed a good page or mastered the skills of a particular piece of software, I could build a long-term career, but that's not the world we live in anymore. It's more critical to keep growing and learn how to continue learning, adapt, pivot to whatever is coming next. We'll always need communicators and thinkers, doers and builders.
I'd be remiss not to also mention that while working with a team in Detroit, starting in 2005, we got deeply involved in human-centered design research, learning and sharing the IDEO methods with an entire organization. That really opened my eyes and led us to manage and design processes and whole workgroups entirely differently and not at all like a traditional newspaper. This has helped us grow and continue to see things with fresh eyes ever since.
Q: What advice or tips would you give to young journalists and designers?
A: Try things. Raise your hand, jump in, lean forward, don't be lazy. Especially after the more structured learning and schedule in college, I would be surprised where and when I learned new skills or gained new experiences. Only later could you look back and see with the perspective of time how some project or effort informed your path and lead you to some new level or opportunity. The only way to keep learning is to keep exploring.
Don't get comfortable. Put yourself in positions and situations where you need to try different solutions, meet new people, think if new ways.
Network like your career depends on it. Because it does. I've been sort of shameless about handing out business cards, reaching out to people, asking questions, and so on. Long before LinkedIn and Facebook, we had to shake hands and connect. These tools certainly help facilitate you, but nothing replaces the value of a strong network. Almost every job I've gotten has been more through knowing someone, or knowing about the opening, than applying and being screened by someone's HR department.
Develop your expertise. Invest time and money and repetitions. But also work on being a utility player. There's a myth that it takes 10,000 hours of practice to master a skill. While that's debatable, the gist is true. To become an expert, you need repetitions. To be even more valuable to a team or an organization, it's important to be more than an expert; you need to bring utility, too. Want more advice? Check out "Things I Wish I Knew in College" (Presentation)
Story contributed by media designer MacKenzie Ross who is on the hunt for a great job after graduating in May with a journalism degree from the University of Mississippi.
You might also like
---