Journalists know that newsrooms all over the country are changing. Digital and print media are ever-evolving, technology and innovation are changing the way we read, report, consume, photograph and design stories.
"Print is dying," some wail. "Print is not what it used to be," they whine. Print is undergoing the changes brought by time.
As the current VP of Content at American City Business Journals, Jon Wile's career in graphic design and news has been marked by starting from the bottom and rising. From answering phones to getting his degree from Kent State, falling into sports and later political news design at publications like The Plain Dealer and The Washington Post, Wile does not avoid the unknown. He welcomes it.
At this year's annual Society for News Design Best of News Design competition in St. Petersburg, Florida, I knew I wanted to hear Wile's take on the balance and importance of choosing a medium for a story. At the competition, we saw incredible examples of what can only be described as mixed-media art – New York Times interactive graphics interpreted online and in print. The Star Tribune told us a chilling story of reported rape cases that go virtually uninvestigated – striking photos and eye-catching type in the print piece mirroring the seamless videography and design of the online component.
Wile said it best, "Design is about storytelling."
He says each medium has strengths and weaknesses that you have to use to your advantage to tell a story effectively. We chatted about how those striking portraits the Star Tribune used were stunning on the printed page, just as they were effective when they came to life as video on the screen.
At the American City Business Journals, print is just one of the many offerings they create. "Print is no longer the star of the show for us," but he says readers still value the medium.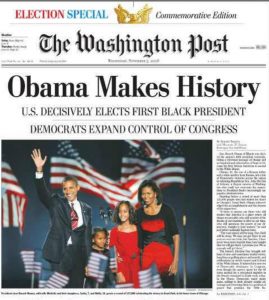 When asked if he could describe his favorite or "most proud to be mine" design, Wile answered without hesitation. He designed the front page of The Washington Post in the issue that ran the day after President Obama won the 2008 election. Wile said that the public's response and love for that front page – what it meant to them – was a professional experience he has yet to top.
It is interesting to note that the front page of that paper was never entered for competitions or to win awards, which Wile has certainly done in his career. I found it telling that his most prized piece of work was about impact on the public, not any new technical design reason or achievement.
He wisely advised me, "Focus on the storytelling. Technology is always going to grow and change. Storytelling is your constant."
This story was contributed by Lee Catherine Collins, a journalism and media design student at the University of Mississippi School of Journalism & New Media.
You might also like
---