In the last few years, social video with text overlays has emerged as a new way of storytelling. The topic was discussed at the recent Excellence in Journalism Conference in Anaheim.
Journalism instructors from the University of Southern California's Annenberg School of Journalism and journalists from Circa, a news and entertainment company, led a session called "I Don't Always Create Videos, But When I Do, They're for Social Media."
Participants learned how to create social videos that engage by creating emotional impact.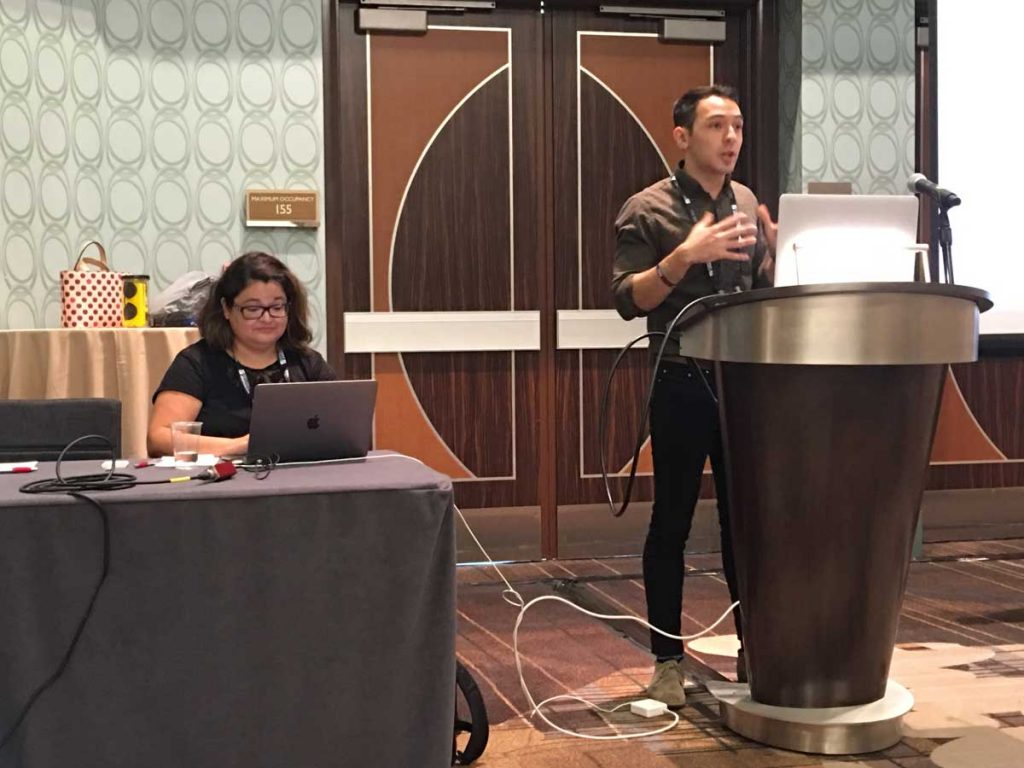 Amara Aguilar, a USC Annenberg digital journalism faculty member, and Fernando Hurtado, a Circa multimedia journalist, discussed common features of social video. They talked about the planning process and offered tips for script writing, editing and production. Participants worked in Adobe Premiere to learn how to overlay text on video.
Here are 10 of Aguilar's reminders and tips for creating social video
Social video is part of the evolution of the digital landscape.
Social video can refer to many different things, including animation and 360-degree video supported by Facebook and YouTube.
Organizations should develop a social media strategy.
Evoking emotion is one factor that often makes a social video journey around the web, Aguilar said. She used last spring's BBC dad video as an example, and said it reached many because it was funny and relatable. "Emotion can really drive engagement with video," she said. "Isn't emotion at the heart of storytelling?"
Social media is personal, and various age groups view it differently. Millennials want it to be funny, while older people want it to tell a story. "A lot of this can help us frame our story and tell us what kind of content we want to produce," Aguilar said.
Social video can be used to tell local stories from your community. Worth sharing are stories with strong characters and strong storylines.
Ninety seconds is a good length for a video, Aguilar said, and that's what many of her students produce. "Don't feel like you have to produce seven- or eight- minute things for Facebook, although if it's really good, people will watch it," she said. "But generally they like more snackable content."
The opening visuals, text overlays and headlines are crucial to attracting people's attention as they scroll. Aguilar suggested that crucial audio be delayed because people usually don't hear it for the first few seconds.
When creating social video, the following factors should be considered: the audience, demographics and the best way to engage viewers.
The text overlay must be readable, and she recommended the use of clean sans serif fonts that are easy to read.
The EIJ conference was sponsored by RTDNA, the Society of Professional Journalists and the National Association of Hispanic Journalists, in cooperation with the Native American Journalists Association.
LaReeca Rucker has been a journalist for 25 years. She spent a decade as a reporter at the The Clarion-Ledger, Mississippi's largest daily newspaper, where she was also a USA TODAY contributor. Rucker has taught multimedia journalism, features writing and mass communication classes since 2014 at the University of Mississippi. She created the Oxford Stories classes at UM and the website OxfordStories.net, which serves as a student news wire service by sending stories to local news organizations for publication.