Carrie Kahn is NPR's international correspondent based in Mexico City, Mexico. She covers Mexico, the Caribbean and Central America. Kahn's reports can be heard on NPR's award-winning news programs including All Things Considered, Morning Edition and Weekend Edition.
Kahn joined NPR in 2003, and before taking her post in Mexico, she was a national correspondent based in Los Angeles. She was interviewed recently by Veronica Mejia, a student at the University of Mississippi's Meek School of Journalism and New Media, during a conference at Guilford College in Greensboro, N.C., titled "The Journalist as Witness: Politics, Protests & Displaced Peoples."
Q: How did you get into the business of radio?
A: I was a big fan of NPR. I really loved it and I listened every morning. I had a small newspaper that we worked on in a small town where there was a radio station, and one day they advertised that they were having an internship and I said I want to try that. I wasn't doing any journalism in the newspaper, I was doing business stuff and keeping it afloat. I went to the internship and I was super lucky. I had this great news director who was totally inspiring and patient. And I just fell I love with radio.
Q: What attracted you to it apart from the internship ad?
A: I was a fan of NPR and I loved the intimacy of the medium. I loved the way I could just be lying in bed and listening to the morning news and really feel connected to it … in a different way than watching TV was. I didn't have a TV at the time. I was a poor student. I just thought it was an amazing and creative way to tell a story and I just loved it.
Q: What are your top podcasts or programming that you listen to?
A: I like the hard news podcasts. I'm not really into the chatty ones that much. The heavily produced ones are my favorites. I do like one—I think it's mostly because he's a friend of mine. Sam Sanders has one called It's Been a Minute. He has such a positive way in life these days. No matter who he is interviewing, I feel like he's always looking for the positive. I feel like I miss that in society these days and I tend to listen to that a lot.
I love The Moth radio hour. It's just people telling stories. Some are funny, some of them are sad. They're all poignant and they're all just regular people. Some of them are professionals telling stories, and I just love that anybody can be a story teller. I think that's my most favorite.
I like This American Life but I find their perspective a little too precious sometimes, but I love when they have story tellers on. I listen to that a lot.
Q: What do you mean by precious?
A: Sometimes I feel like they don't have a diverse enough perspective for me. I want more diversity in the stories that they tell. I love the craft and I love the way that they do it.
My kids and I have been listening to More Perfect. It's by Radiolab out of WNYC and its about Supreme Court cases. I love listening to that with my kids, and we talk about the stories and they really love the educational power of it and learning about how those cases came to the Supreme Court. I think that's a fascinating one.
Q: What was your biggest professional challenge and how did you overcome it? What did it teach you?
A: I've had a long career. I've had lots of challenges. I think learning the craft probably was the biggest. I took me a long time (laughter). I had a long, steep learning curve. It took me a long time to feel comfortable with my writing. I think that was it, just feeling comfortable with my own abilities to do a story, that I could get it done and do it in a way that I'd be proud of. I think, though, that probably just doubting yourself is probably the biggest challenge.
Being a woman is difficult. I didn't get the job that I wanted, this international job that I have now, because it was known that our editor didn't hire women with children. And so it was a long struggle to get over that and to prove myself and to get the job 
Q: How did you get over them? How did you finally get the job?
A: He retired. I didn't get over it and I just kept applying and I didn't give up on it. I found other avenues that work and I think a better path for me, too. On the national desk with more support of editors you know that challenge. … You know you fail, you might not do something, and just keep moving.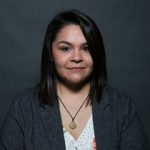 Veronica Mejia is a senior broadcast journalism major at the University of Mississippi. She enjoys spending time with her family and friends, singing and dancing. (Photo by Richard Sayer)
You might also like
---