At a time when too many news people seem more fallible and less likely to worry about being right than in the past, sports producer Terry Ewert reflects on his meeting with one of broadcast journalism's greats.
"Come right in, Mr. Ewert.  Have a seat in the outer office.  He'll be with you in a second," the assistant said.
My hands started to sweat.  I knew that I shouldn't have been nervous, but still, I was about to meet one of my childhood idols … actually, an idol to a couple of generations.  As I sat in his outer office, my mind began to wander about the many moments in history he had revealed to the American public.
You see, I was the CBS Sports executive producer, and, normally, I would never sit outside anyone's outer office at CBS.  People came to see me.  But, for him, I made an exception.
I needed to book a "big name" narrator for a newly produced documentary scheduled to air prior to CBS' Saturday coverage of the Masters golf tournament.  The hour-long documentary focused on the life and careers of three Masters champions and three of the most accomplished professional golfers in the world—Gene Sarazen, Sam Snead and Byron Nelson.  The title was Legends of the Spring.  Catchy, huh?
It was 1999, and they were scheduled to be the ceremonial first three to tee off at Hole #1 of the first round.  And, I needed a "voice" to match the stature of those icons.  Only one name that came to mind.
"Mr. Cronkite will see you now," came the voice in the inner office.
Yes, Walter Cronkite, the CBS news reporter and anchorman of CBS Evening News, whose career at the network had spanned over 50 years.  He was "Uncle Walter" to several generations who worked with him at the network.  But, for me, he had taught me about the atrocities of the war in Vietnam, he had made all of us cry at the deaths of John F. Kennedy, Robert Kennedy and Martin Luther King, and he had made us all cheer as Neil Armstrong took his "small step" on the surface of the Moon with his understated, but exuberant, "Oh, boy!"
"Mr. Cronkite.  It's a pleasure to meet you!" I said politely.
"Please, please.  Call me Walter," replied the silver-haired octogenarian with that familiar deep, resonant, Missouri-by-way-of-Houston accented voice.
I was a kid from Mississippi, and one of this nation's pillars of journalistic integrity wanted me to call him by his first name.
"I'm not sure I can do that.  But, I'll try."
I had spoken to him via phone earlier in the week to gauge his interest in voicing over the documentary for us.  He had said gruffly that, before he would agree to do anything, he would need to read the script.
I had thought, "Of course, he needs to OK the script!!!"  After all, I was dealing with a journalist once voted in an opinion poll "the most trusted man in America."
In his office, we exchanged small talk.  Then he wanted to know about the project.  I rambled on about the idea of starting Masters coverage with documentaries that told stories about past Masters champions.  Our first attempt was going to be about some of the golf heroes from the '30s, '40s and '50s.  We had selected and produced this special with footage of Gene "The Squire" Sarazen, "Lord" Byron Nelson and "Slammin" Sammy Snead.
"Why do you want me to be the voice?  I don't come from Sports."
"I understand, Mr. Cronkite.  But, you did host the Olympics once," pointing out that he had been the anchor of CBS' coverage of the 1960 Winter Games in Squaw Valley, California.
He smiled and added "And, I hosted the Masters once."
Nodding, I agreed, "I know you did.  We have footage of you on the 18th green."
"But my real reason is that you once voiced over a CBS-TV documentary series called The Twentieth Century." (The series ran from 1957 to 1968.)
A big smile came over Cronkite's face.
"Every Sunday night I used to watch that series," I continued. "I learned so much about American and world history from that TV show.  Because of its timeslot, I believe it was a precursor to 60 Minutes.  I grew up in Jackson, Mississippi, and history came alive every Sunday for me because of the images on TV and your voice."
"Well, thank you.  We were all proud of that show.  Let me take a look at the script, and I'll let you know this afternoon if I'm interested in being a part of it."
"Thank you very much, Mr. Cronkite."
"Please, Walter."
"Walter."
The meeting took only about 15 minutes.  As I walked to the elevators to go back down to my office, I couldn't stop smiling.
Later that day, his assistant called to say that Mr. Cronkite would do the project, and a couple of weeks later, he voiced over the documentary.  Of course, he did a masterful job.
That was the last time I saw him.
Walter Cronkite died in 2009, but his legacy has lived on.  Arizona State has the Cronkite School of Journalism.  His papers are preserved at the University of Texas.  A memorial to his life was built at Missouri Western State University.  And, he received numerous awards including the Presidential Medal of Freedom.
I'm sure my meeting with him never crossed his mind again.  But, for this "kid from Mississippi," it made a huge impact.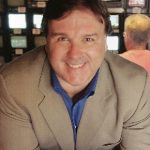 Terry Ewert, a member of the Ole Miss Alumni Hall of Fame and a 1973 graduate, is owner and executive producer of Ewert TV Productions Inc.  Since 1981, he has been a producer and/or senior production executive at NBC and CBS Sports and the Big Ten Network.  He has 13 Emmys and two National Headliner Awards for his work, which includes production and coverage of three Olympic Summer Games, the NFL, several Super Bowls, The Masters, Wimbledon and the U.S. Open tennis championships.
NewsLab.org: Powered by the University of Mississippi Meek School of Journalism & New Media
You might also like
---