There's never been a better time to be interested in sports journalism, according to Chuck Swirsky, the play-by-play announcer for the Chicago Bulls. Swirsky has also called play-by-play for both University of Michigan basketball and football and was formerly the play-by-play voice of the Toronto Raptors. Speaking to a crowd at the University of Mississippi's School of Journalism & New Media, he spoke about navigating your way to becoming a sports broadcaster.
Understand that the pay is not immediate.
According to the Bureau of Labor Statistics, the median salary for broadcasters is almost $41,000. Though top announcers make well above that, keep in mind it's a ladder that requires climbing.
"Whatever you do in life, you find a passion and follow that lead," Swirsky said. "Understand from the get-go, it's not going to be about money—not initially, and maybe not for a while."
Bring it
"There is no substitute for hard work," Swirsky said. Once you're given a chance, he said, you have to produce. The job has many demands: thorough research into the individual players, full understanding of the rulebook and a close attention to the past games and seasons that extend back years. Adequate preparation is essential.
When Swirsky was asked to fill in for Jason Benetti at a Baltimore Orioles game, he had not covered a baseball game in two years. He went into the library of Major League Baseball and studied the past 23 games—"every pitch, every hit, every out," Swirsky said. "I wanted to gather as much information, as many nuggets of trivia in the event we have a blowout ballgame."
Show up prepared and confident, having done your research and being equipped for any outcome.
Take the opportunities that other people don't
On those Friday and Saturday nights when your friends are going out, take the 11 p.m. weekend sportscast on the radio. Look at those stints as ways to gain experience, build airtime and get your name out there. You'll be able to practice putting a sportscast together, writing and compiling soundbites and actualities.
It's good to have a balance and take time to decompress but look for ways you can seize what a moment can offer you before you deem it too inconvenient, too small or too monotonous.
When you're at your job, get there early. Do the things that people notice. When given the chance to work with someone you look up to, write a hand-written thank-you note. If you need to be at a job at 10 a.m., arrive at 9 a.m., even if it means just sitting around waiting for your shift to start. It will show that you're reliable and that you take yourself and the job seriously. As you wait, you even might get the chance to pick another broadcaster's brain or watch how he or she interacts with the job at hand.
Get an internship and keep those contacts
Apply for internships and jump at the opportunity if you're accepted. Internships allow you to network with people who have been there, done that.
"At my internship at NBC, I met so many people that I still stay in touch with today. The broadcaster 30 years for the Cleveland Cavaliers, Joe Tait, who is in the basketball Hall of Fame, I was at his house every day before work asking, 'How do you keep score while you're calling the game? What do you do as prep work for when you don't know who's playing in a high school game?'"
Another tip: Take advantage of your university, of your professors and their experience out in the field.
Develop a short-term memory
"When I call a game and I know I haven't really been sharp, it stays with me and it eats me up," Swirsky said. "But then, you know what? Next day, boom, you have another game."
It's important, he said, to recover quickly from bad days at work and don't spend too much time reveling in the good days. It's important to learn from your mistakes and search for ways to improve without dwelling too long on either the good or bad.
Consider that the players have off days, too. When their family members who haven't seen them play in years are visiting to watch the game, when the stakes are high— they mess up. Know that you aren't alone in not performing perfectly all the time; instead, use it as a stepping-stone to a comeback at the next game.
Rejection is a big part of broadcasting, so don't give up. It takes only one person to believe in you for your career to start heading in the direction you want. It also will be a much more rewarding path if you perceive rejection as a new shot at getting it right the next time.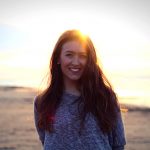 Jacqueline Schlick is an Orlando native who found her voice in the deep south. She graduated from the University of Mississippi with a creative writing degree and is now pursuing her master's in journalism. She serves as the Public Relations Director of Ole Miss Bands and as a Lifestyles writer at the Daily Mississippian. Upon graduation, she plans to become a novelist as well as continuing her work in journalism.
You might also like
---