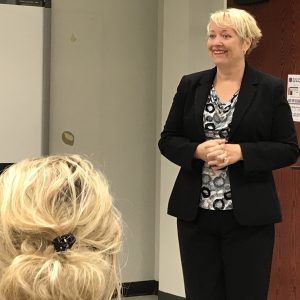 Dawn Dugle grew up in New Palestine, Indiana, believing she would enter the medical field after graduation.
"If you were smart in science, you went on to become a doctor," said Dugle, 44. "There wasn't anyone mentoring me to say, 'Hey, you're also good at writing and talking to people; you might want to consider a career in news.' I didn't know I could do that."
But Dugle's eighth-grade media fair project was a newscast that won the school competition. She went on to study broadcast journalism and production at Butler University in nearby Indianapolis, intent on becoming a news anchor.
Today, after a professional television broadcasting career, she is the creative director for the Jackson, Mississippi-based TeleSouth Communications. She is responsible for all of the company's digital and social media, which draws upon her storytelling skills from her time in the newsroom.
That experience began with her first real job as anchor-producer for the Central Pacific Network on the island of Kwajalein in the Marshall Islands. About 2,000 Americans lived and worked there. They had a television network and wanted to launch a broadcast news magazine.
"Window on the Atoll was limited because it's a military base and missile range, so there wasn't a lot of hard-hitting journalism going on," Dugle said. "But I was able to find and tell interesting stories. I worked on deadlines and storytelling. I made the most of it while working and playing in paradise."
When Dugle returned to the states a year later, Fox13 in Tampa hired her as a freelance associate producer and morning shift news writer. A month later, the station named her full-time associate producer. Within six months, she was promoted to producer with her own show at 5 a.m.
"Six months later, the 5 a.m. hour of Good Day Tampa Bay went from No. 3 in the market to No.1, and I was leading our coverage every morning," Dugle said. "I would learn something new, master it, and then want to learn something else. They were more than happy to let me loose, because I worked very hard."
Dugle said her time at Fox13 made her the "queen of breaking news," and she remembers one newscast well about the D.C. snipers, who went on a deadly shooting spree in the Washington area in 2002. When the shooters were caught, the newscast she had worked hours on fell apart.
"My whole newscast just went down the toilet an hour before we were supposed to go on the air," Dugle said. "I was pissed. I couldn't believe all my hard work went right down the drain—and all I could think of at that point was 'me, me, me.' "
Dugle later snapped out of it, glad the snipers were caught, and with only one hour remaining before airtime, she led her team to create new content for the one-hour newscast.
"I stood up and very loudly said: 'All right everyone—throw out all the scripts. We're redoing the show, and here's what I need.' … Everyone pitched in to help me get that 'Frankenstein' show on the air. It was cobbled together from pieces and parts.
"It was total chaos behind the scenes, but on the air, it was, and still is, one of the best newscasts I've ever produced. It marked the moment that I went from being a 'stacker and packer' producer to being a super producer—and I was good at it."
Dugle later was promoted to senior morning producer, where she produced an 8 a.m. newscast and content for the station's roving reporter. But she knew she'd have to move from Tampa to ascend to management. She left and became an executive producer in Austin, Texas.
Today, Dugle lives in Jackson working for TeleSouth Communications, the parent company of SuperTalk Mississippi and News Mississippi.
"It's an incredibly fun job because I get to travel throughout the state and meet all sorts of interesting people," said Dugle, who also helps create Good Things with Rebecca Turner, a live show on the SuperTalk network at 2 p.m. weekdays featuring good stories from Mississippi.
Over the years, Dugle has learned a lot about the broadcast industry, and has some tips for early career journalists and those transitioning into radio and television:
 Work your way up. Take a job in a smaller market where you can get a lot of hands-on experience. "One of the best things I did was to learn things outside of my area of expertise."
Be humble. "Don't go into your first job, or any job, thinking you know it all. Do know that even after 23-plus years as a journalist, there are still things to learn, and that attitude will serve you very well."
Listen to your boss. "There were people I hired over the years from a certain university. They think they know everything there is to know, and I would spend more time trying to undo that thinking and get them on board with the rest of the team. Eventually, I stopped hiring young people from that school."
Listen more than you speak. "A great mentor said: 'God gave you two eyes, two ears and one mouth. That's the ratio you should be using them.' In other words, keep your eyes and ears open, and your mouth shut. Listen and learn—and then speak."
Dress for the job you want. "You spend four years in college just trying to finish, right? And sometimes that means you're phoning it in when it comes to your outfit, clothes. That's OK. I totally get that. But when you leave here, you're going to be in the real world, where people expect you to be professional in the office. Flip-flops are not. Spaghetti straps or anything you'd wear out to the club—are all big no-nos."
Look at what other journalists are wearing. "If you want to be a bartender, then go ahead and go for that job, there's nothing wrong with that. But if you want to be a journalist you have to dress appropriately. Look at what the people in that market are wearing. Think about it: If you're going to share your exclusive story with a reporter, which one will it be? The one wearing a pantsuit and sensible shoes, or the one with the short skirt, stiletto heels and fake eyelashes?
 Never let your mom call your boss. "When you graduate, you are going to be out in the world negotiating your life, from an apartment lease to a job contract. No matter what, do not have your parents call your boss. It's cool to talk things over with your parents, but your parents are not working for your boss—you are."
Be willing to learn and try new things. "Are there things I'd rather not do? Sure. We all have those things. But if you're looking to make this your career, you have to be willing to work as a team. Sometimes, that means tidying up the green room bathroom before a big guest comes into the studio. Sometimes that means getting your hands dirty and learning something that isn't quite what you were hired for. I promise you, those are the things that bosses remember, and they're also things that build your expertise in this field."
 The basics won't change in the world of journalism. "If you're not curious to learn what's going on in the world … if you can't tell a story through good writing, it doesn't matter what sorts of technology you're an 'expert' at. Learn the basics and have that in your bones: good writing, storytelling and curiosity. Then, add on the technology and new platforms in ways to share it. You will always have a job and a future as a journalist.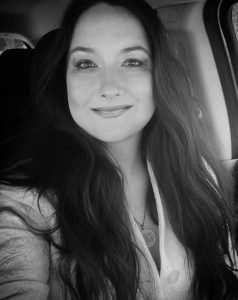 LaReeca Rucker has been a journalist for 25 years. She spent a decade as a reporter at the The Clarion-Ledger, Mississippi's largest daily newspaper, where she was also a USA TODAY contributor. Rucker has taught multimedia journalism, features writing and mass communication classes since 2014 at the University of Mississippi. She created the Oxford Stories classes at UM and the website OxfordStories.net, which serves as a student news wire service by sending stories to local news organizations for publication.
You might also like
---