Though agreements could be reached at any moment, as I write this, all 164 Nexstar television stations are being blacked out on DISH Network and all 51 Tegna stations are off DirecTV.
Nexstar stations cover 63% of the nation. Tegna covers 35%. There is some overlap, but you get the picture, however, a lot of Americans don't…literally. A massive number of people across the country are currently unable to watch at least one of their local television stations.
The Nexstar and Tegna retransmission negotiations are symptomatic of a much bigger set of economic conditions that will play out over the course of 2021. In case you don't follow the business side of local television, here is what is going on.
A Long-Term Problem with a Short-Term Solution
Back in 2009, at the end of the Great Recession, many television stations found themselves in dire economic straits. Advertising had dropped to the point it could no longer pay the huge cost of producing local news. In desperation, stations started charging cable and satellite systems to carry their signals.
Retransmission consent was a boon for television stations, eventually replacing much of the lost advertising revenue and essentially saving the industry for a time. But the good news did not last. CBS, NBC, ABC and FOX networks soon began claiming a portion of the fees. At first they wanted 50%. Then it was 60%. In some cases, it was north of 80%. There was still enough money left to operate news departments, but not a lot.
Despite having to share the wealth, by 2018 many local TV stations were getting more money from retransmission consent than from all station advertising, including digital and mobile.  Think about that. If you work in a station news department, more of your salary comes from retransmission payments than from advertising.
Retransmission Payments Decline
However, 2018 was also the year the bottom began to fall out. The ubiquitous nature of high-speed internet created an opportunity for a new kind of cable player to compete with satellite and cable systems. Because they did not have the infrastructure to maintain, programming could be offered at a lower rate. Out of nowhere, YouTube, HULU, Fubo and others began to offer internet-based cable (vMPVD) packages, undercutting the cost of cable and satellite.
Unfortunately for local television stations, a loophole in the copyright laws allows vMPVDs to contract directly with NBC, CBS, ABC and FOX networks rather than negotiate with stations. Stations still get paid but at a fraction of their regular rates.
As consumers dropped satellite and cable to sign up with internet cable services, payments to television stations began to drop to the point of crisis, just as something even bigger arrived on the scene: COVID-19.
Despite record revenue from political advertising, what may be an insurmountable core problem remains. Most communities can no longer support the number of television stations currently producing local newscasts. It's just that simple. Either stations must combine, or some must exit local news.
Regulation Reform?  Maybe Not 
Current federal regulations do not allow any company to own more than one of the four most viewed stations in a market. There are some small market exceptions based on the need to save failing stations, but in most cases the rule is unbreachable. For years, the Top 4 rule has been a touchstone for both television stations and community groups opposed to any deregulation.
Even so, station owners have had cause for hope. The past four years have seen the most reform-minded Federal Communications Commission (FCC) in the history of media.
Under FCC Chairman Ajit Pai, a wide range of regulations in multiple industries have been loosened. Most notably, the FCC passed rules eliminating the newspaper/TV cross-ownership ban and created a potential path to combining some Top 4 stations. Unfortunately, the Third Circuit Court in Philadelphia, which oversees FCC rulemaking, rejected the new rules on technical grounds having to do with their effect on women and minorities.
In October of this year, the United States Supreme Court agreed to hear an appeal to the Third Circuit's decision. A ruling is expected sometime in 2021.
However, with the advent of a Democratic administration, all bets on any further relaxation of FCC restrictions are off. Chairman Pai has announced his resignation effective January 20. A new Democratic chair should shortly be named and depending on the pick, this latest era of FCC deregulation may end altogether.
What a Supreme Court Ruling will Mean
Broadcasters are still optimistic the Supreme Court will uphold the Pai-era market consolidation rules, but gains could be muted. Removal of the newspaper/broadcasting consolidation rule will have come 15 years too late to meaningfully help most newspapers.
As to the Top 4 regulations, they would not automatically be removed. Instead, the FCC would be able to permit exceptions based on the best interest of local communities. In fact, the FCC recently created a test case in Sioux Falls, South Dakota where Gray Television now owns both the ABC and NBC affiliates.
Whether or not a Democratic FCC would be willing to look at allowing other cases under the new rules is unknown. 
What Happens Next
No matter what regulatory decisions are made, 2021 is going to be a tough economic year for local television. There is reason to hope the second half of 2021 will bring better news, but for now, owners must deal with the tail end of an advertising recession, increasingly lower retransmission payments based on subscription losses, and the ongoing cost of maintaining full-service news departments.
As difficult as the situation appears, highly-leveraged companies face the even bigger problem of continuing to make debt payments. Breaching of debt covenants could cause a company to fail.
There are only two solutions to the 2021 economic problem. The first is higher revenue, which explains the Nexstar and Tegna blackouts. The second is to reduce expenses.
Because of the revenue implications, especially political revenue, stations are loath to even consider getting out of local news. However, one must remember the cost of producing local news goes far beyond the number of people in the news department. I remember years ago, the general manager of an ABC affiliate that exited local news told me that his station immediately went from unprofitable to a seven-figure profit just by removing all the news-related costs.
Consolidation vs. Elimination
If you are a journalist, you may now be wondering how consolidation could possibly be a good thing? After all, wouldn't consolidation eliminate jobs? The answer is yes, but not as many. In the Sioux Falls case, Gray ended up with a much larger news staff overall, so not all of the jobs from the acquired station were cut.
If the Supreme Court upholds the new rules and the new FCC chair chooses to implement them, consolidation would only be approved after the purchasing party made specific promises that would result in greater service to the local community. This would most certainly include a larger news staff at the surviving station.
Simple elimination of news for any given station would presumably result in all news-related jobs being lost, so one can make the case that consolidation is a better option for both employees and the public. Of course, neither is ideal from an employment perspective, since reducing expenses would be a primary reason for consolidation.
In any case, the number of stations doing local newscasts in most markets cannot be sustained in the long run. Whatever actions we see television station owners take in 2021 will be based on this simple fact.
Stand by for change.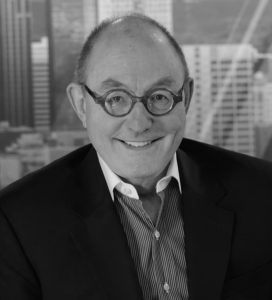 Hank Price is a veteran media executive, educator and author.  He is a frequent speaker to television industry groups about the future of media.  He currently serves as Director of Leadership Development for the School of Journalism and New Media at Ole Miss. During a 30-year career as a television general manager, Priced specialized in turnarounds, leading television stations for Hearst, CBS and Gannett.  During this time, he became known for turning traditional businesses into multi-platform brands.  Simultaneously, he spent 15 years as senior director of Northwestern University's Media Management Center, teaching in both the domestic and international executive education programs.  Price is the author of Leading Local Television (BPP, 2018) and co-author of Managing Today's News Media:  Audience First (Sage, 2015) a management textbook.
You might also like
---