Reflections from Rhonda McBride, KTUU-TV, Anchorage, Alaska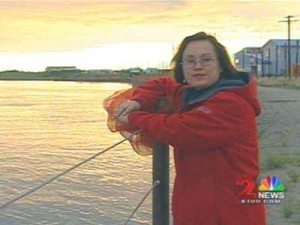 You could say I took the road less traveled. But out in the Bush Country of Alaska, you have to ask, "What road?"
I became a professional story teller in an unorthodox way, so it's probably not surprising that in 1988, I found myself doing an unorthodox job in an unorthodox place.
As a journalist, I have to say some of my best years were working at KYUK-AM/TV in Bethel, Alaska, where I was news and public affairs director for almost ten years.
Bethel, which is 400 miles west of Anchorage, is one of America's most remote and unique communities. For one, it's not on a road system. The only way to get there is to fly there. The station also broadcasts in both English and the Yup'ik Eskimo language. Working in the station's cross cultural news department was an exciting way to become a true student of the Yukon Kuskokwim Delta.
As my first boss put it, "Every day will be a surprise. It may not be a surprise you'll like. But it'll be a surprise."
Among some of the surprises….
One of your co-workers might bring in some fermented seal flipper to share. Or you might hop on a Bush plane to go watch homes being moved up the frozen Kuskokwim River, known in the winter time as the "Ice Road."
One thing for sure, life in Rural Alaska forces you to come to terms with what is most essential in life. Reporters in the Bush cover a lot of tragedy–numerous small plane crashes, drownings, frozen alcoholics, snow machine accidents, trucks falling through the Ice Road and the occasional sled dog that devours a toddler. Each is an opportunity to learn how fragile life is.
Many of my former colleagues questioned my sanity when my husband and I moved to Bethel. After we stayed nine years, I guess they concluded they were right. I don't hear from many of them any more. Of course they knew me in my days as a television anchor and reporter in both Reno and Las Vegas–where clothing, make-up, manicures and consultants were the topic of conversation. Like I said, my career has been unorthodox. But then again, contrast is a story teller's best friend.
I am truly an accidental reporter. While working as a VISTA volunteer in Twin Falls, Idaho, I recorded a public service announcement at a local country music station for a fundraiser. The call letters at the time were KTLC, as in " Tender Lovin' Country." The program director remarked on my voice. "You're a natural," he said. I was hooked and later applied for a reporter's position at the station. I wasn't particularly qualified, but the news director was desperate to go on vacation and took a chance on me. And I'm so glad she did. Life as a reporter has been an ongoing educational experience –from spending a week on the USS Enterprise to covering dog sled races in forty below weather (Yes, I do know what happens to microphone cables when it gets that cold. They snap like twigs. ).
My background as a VISTA played a very important part in my development as a reporter. It was an opportunity to see how poor people live and what keeps them poor. Poverty is a terribly undercovered issue in America, but it's a challenge to tell the stories about people nobody cares about — and give people a reason to care. Are you up to the task?
Contrast is great teacher. During my VISTA days, when I'd approach the Twin Falls County Commissioners on behalf of someone in need of services such as medical care ? or money for food, the commissioners would only speak to me through a counter with a sliding glass door. But when I became a reporter, I was invited to come inside their office and enjoy donuts and coffee. They probably didn't realize I was the same person, because I had changed uniforms. No more Birkenstocks and blue jeans. I guess I cleaned up pretty good in my black tweed blazer. It was all I could afford, but it passed as a reporter outfit. Still, I've never forgotten the contrast in the way I was treated, depending on the uniform and the company I kept. Today I still think of myself as that person, whose job it is, to represent those on the other side of the sliding glass door.
Well, now I know what it's like to live in a place where people have to use " honeybuckets," because they can't afford indoor plumbing — or spend six dollars in a village store for a stale box of breakfast cereal.
So do I have regrets about living and working all those years in Bush Alaska? OK. I admit it. There were days I wondered what the hell I was doing, working in a place where the best employee benefit was the shower. KYUK had access to city well water. Most Bethel residents were on a flush-haul system. In other words, once a week, a truck came to your house to deliver water. And at the end of the week, another truck came to suck out your sewage. It's hard to have modern plumbing on permafrost. Every time we visited Anchorage, I would fill my bags with dirty laundry, because our water supply was never enough to get all our laundry done. We'd usually mail it back to Bethel.
A trip to Phoenix one year eased my doubts about my career choices. When I switched on the TV, I saw one of my former colleagues from Reno doing a story about why pajamas made out of fabric, coated with fire retardant , burns more slowly. It was laughable watching him torch the pajamas on the air. In that same newscast, there was a story about why water is the ultimate diet drink. The gist of the story was that you actually burn calories when you drink water, because water lowers your body temperature.
I came away from that newscast feeling really grateful that I had issues of true significance to cover. The Native people here are engaged in a valiant struggle to preserve their way of life, which if lost, will be a loss to all of human kind. Their battle goes to the root of the American experience. The right to self determination.
As my dad used to say, when I got off the roller coaster at the carnival, "All good things come to an end." KYUK , like many public broadcasting stations, wound up with money troubles and I lost my job, as did many good people, when the station downsized. I freelanced for awhile, as a correspondent for the Nome Nugget.
By then, my husband and I had a three-year-old boy. We were ready to move to Anchorage, a beautiful city with parks, bike trails, music teachers, concerts and other amenities of city life that we wanted our child to experience.
For a few years, I worked at the Alaska Public Radio Network as producer of their evening news program, Alaska News Nightly. Some of those voices you hear on NPR today come from reporters who cut their teeth at APRN. Corey Flinthoff. Peter Kenyon. Elizabeth Arnold. Actually, Corey spent a few years working in Bethel. I think Elizabeth did too. Corey was working as a substitute teacher and wound up reporting for the Tundra Drums Newspaper. The Bush is like that. You can have no qualifications at all, and wind up doing something you never dreamed of. Later Corey went over to KYUK. So when hear those marvelous voices and great stories, remember they come from people who honed their craft in places you've never heard of — or imagined. Peter Kenyon has covered the war in Iraq and says his cross-cultural experience with Alaska Natives has helped him in Iraq.
Despite the tradition of great story tellers at APRN, things didn't go well there. Producing was not my calling. I was one of the worst producers APRN ever had. Maybe it's because I really wanted to be out in the field reporting. So when KTUU-TV, Anchorage's NBC affiliate, expanded its morning news program, I decided to jump ship, despite the God-awful hours. Being at work at 4:30am is not fun. But I discovered that my job as the "morning reporter" gave me windows of time to work on special projects. Another stroke of luck: Phil Walczak, a photographer with a background in public television, worked the same shift. We are a perfect match in story telling styles.
Phil is a story all by himself. He lives in Wasilla in a cabin he built. Wasilla is about an hour from Anchorage, but still rural in character. Phil resists putting in plumbing and electricity. But maybe that's why he does so well, when we travel to the Bush.
There probably aren't many stations in the country like KTUU. Our reporters and photographers win national awards. Our station has won at least two Murrows. Our [former] news director, John Tracy, is one of the best story tellers I know and a great mentor. He encouraged me to put my intimate knowledge of life in the Bush to good use. At KTUU, long format stories are a part of every newscast. Suddenly I had the time and resources to tell stories that were close to my heart.
Anchorage is really like any other city in the Lower 48. And most of the folks who live here have no idea what happens off the road system. We truly have a deep urban-rural divide. There's a lot of racism towards Alaska Natives. So I put my energies into doing meaningful pieces about life in Rural Alaska, aimed at bridging the gap.
Recently, I've done a lot of stories about dentistry in the Bush, where children have a rate of tooth decay more than twice the national average. And they suffer so. Of all the things I've done, this is one of the most important to me. Over the last few years, I've been relentless is covering dental health issues. My boss has supported this, because he believes these stories will give our viewers enough information to help bring about change. And I think our stories have had an impact. And to a journalist, there is nothing more rewarding. Nothing.
In all those years I lived in the Bush, it broke my heart to see so many people with missing teeth — and children in pain with rotten and abscessed teeth. Almost all of this suffering is preventable. The story got exciting when a group of Alaska Native Health organizations created a new type of practitioner, a dental health aide therapist or DHAT. America never had this type of dental worker before. The first therapists had to go all the way to New Zealand for training. There, they learned how to do basic dentistry–drill, fill and extract teeth and other treatments — only done by licensed dentists in this country. The American Dental Association filed a lawsuit to stop them from practicing. The ADA's claim: they were protecting Rural Alaskans from unlicensed dentistry. The sad truth: most villagers in Rural Alaska rarely see a dentist. From their perspective, some care is better than no care.
In many ways, this was a "David vs. Goliath" kind of story. People in small villages up against one of the most powerful medical organizations in America. Our coverage looked at the economic implications. The root of the controversy: mainstream dentistry's fears that the dental therapy movement will spread beyond Alaska and threaten their livelihood. Yet dentists across the country, by and large, don't serve the poor. From behind sliding glass doors, dental receptionists turn away single mothers every day, telling them that they can't see their children–because they don't take Medicaid.
So our story turned out to be about a battle, waged not just in the Bush, but in the courts and in Congress — and even at national dental conferences. Public health dentists were passionate supporters. We profiled one, with the help of the Cincinnati NBC affiliate, in Cincinnati.
It's hard to imagine that Bush dentistry would turn out to be such a mother lode for great stories. We showed how people in villages, without running water, brush their teeth — starting with a snow machine trip to a frozen pond, where an ice hole was cut, to draw fresh water. Our travels took us from Toksook Bay to Hooper Bay to Nome and White Mountain and eventually to St. Lawrence Island in the Bering Sea, which is closer to Russia than it is to Alaska.
The weight of all these stories probably was a factor in the ADA's decision to settle the lawsuit, and give the Native Health groups more than $500,000 for prevention programs. Maybe we give ourselves too much credit, but our coverage did keep the issue on the public's radar screen. After one of our series aired, the ADA conducted a public opinion poll in Alaska. They would not disclose the results, but from that point on, they began to back away from some of their earlier positions.
I wonder what Charles Kuralt would think of this body of work. Many of you are probably too young to know who he was. Kuralt pioneered the television feature story, back in the film days, before ENG — electronic news gathering. Kuralt traveled the country doing stories about ordinary people doing extraordinary things. He was definitely the zen master of capturing "the moment."
When I was a cub reporter in Twin Falls, I tried to copy him. Shortly before he died, the Radio Television News Director's Magazine ran an interview with Kuralt. His words resonated with me, as he talked about how he wished more reporters would be more interested in covering Rural America, rather than scrambling up the ladder to the biggest market they can reach. He thought rural reporting was the highest calling and despised how broadcasters referred to towns as "markets." Kuralt also seemed irritated that reporters copied his style, but without the substance. He was disturbed by the trivialization of news and complained that TV reporting had become predictable — that if a reporter were covering a tricycle race, you could count on that reporter doing a stand-up, well actually a sit-down, trying to ride the tricycle.
Many young TV reporters start out wanting to be an anchor in a big market, chasing the big stories. But in so many ways, the stories are bigger in small communities. One Associated Press reporter in Alaska once told me, there are no dull towns, just dull reporters.
And towns that have creative and caring reporters are very lucky. They really do make a difference.
Good luck. And may you be one of the "good ones."
---
Rhonda McBride was a 2007 Journalism Ethics Fellow at the Poynter Institute for Media Studies. She wrote this essay at the request of former Poynter fellow Lynn Adrine, who teaches in the Syracuse University Washington program, and who wanted to open her students' eyes to what might await them in a "small market" job.
You might also like
---