By Stan Heist
When I was a news photographer I carried a lot of gear in the back of my car. Perhaps the most important thing – and most seldom used – was a small blue duffel bag that I called my "go-kit."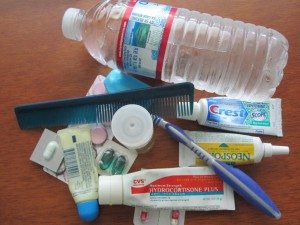 Inside the go-kit were the essentials for an unplanned overnight stay, just in case. A change of clothes, basic toiletries, a bottle of water, some food and about 50 bucks in cash. After September 11th, I thought about adding a gas mask, and when I worked in Baltimore I carried an old (and dangerously outdated) bullet-proof vest. Those last two items were ones that I, thankfully, never needed.
Tuesday's earthquake in Mineral, Va., was a big surprise for anyone on the East Coast. While many news operations were simultaneously preparing for likely hurricane coverage this weekend and monitoring the situation in Libya, the tremor below their feet literally shook their day's coverage.
While it was a relatively minor seismic event, it rightfully was a major news story. The public needed to know why the ground shook, that they were indeed not the only ones to feel it, and that the region's infrastructure was being monitored for damage.
For news managers, this should serve as a dry-run for their major incident planning and operation. How is your organizational "go-kit" holding up?
Here are some thoughts to get started:
Is there a standard operating procedure in place for news employees in case of a major event? Should staffers call in to see if their services are needed, or standby to hear from you?
What contingency plans should the crews follow in case cell phone service is tied up and calls can't get through? How will they communicate with you, with sources, with each other?
Are all news staffers capable of gathering news content that is presentable? Have they been given basic training in gathering and sending visuals, stills, or sound with smartphones?
Are all company-owned smartphones and news gathering equipment in good, working order? Do batteries need to be replaced, or phones upgraded? A small investment in upgrading equipment can bring a big difference in newsgathering.
Do you have a staffer that can be assigned to receiving and vetting a large volume of audience-generated content? Is this staffer also putting station information out via text messages, social media etc? Are they using social media to research stories, such as searching tweets to find story angles?
Is your management tree organized, in case the news director is out of reach when major coverage decisions need to be made?
Do you have a good working relationship with newsrooms in other parts of the region, in case you need to share field production services, such as satellite trucks?
If you had to evacuate your newsroom, where would you go? How would you put out a product?
Working in news means working in an environment that is always unpredictable.  The unexpected is our commodity, and we need to be prepared to serve our audience with information and context as quickly as possible. Taking time now to assess the response to this dress rehearsal will make your organization that much better prepared for when the go-kit needs to be opened.
[Editor's note: Stan Heist teaches journalism at the University of Maryland. He is a former NPPA national TV news photographer of the year. For more on disaster planning, check the disaster and crisis coverage handbook Deborah Potter co-wrote for ICFJ and these earlier coverage tips and advice on how to develop an emergency plan.]
You might also like
---