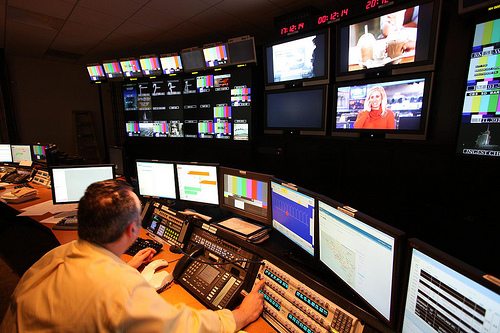 Three more hours of news in one day? OK, so not all three hours are on the same station. But the announcements by stations in Chicago, Grand Rapids and Portland, Oregon that they're adding news all came on the same day, and that says something about the state of play in local TV news. Growth is in again.
What's driving the expansion? In some cases, it's the loss of syndicated programming. In Chicago, WGN's decision to add a weekday 4 p.m. newscast coincided with the cancellation of a daytime talk show. Five Tribune stations are replacing Arsenio Hall's canceled late night talk show with news at 11 p.m. The group's station in Indianapolis, which already airs 60 hours of news a week, is adding news at 7 p.m. as well as 11. "We are seeing audiences coming back to news programming, so we want to deliver in the dayparts when there is an appetite for news," says Katherine Green, Tribune's VP of news.
Fox Television is expanding local news at its owned stations in nine markets and it's going big. The group will add a total of 29+ hours of news, mostly it on weekend mornings.  The Fox O&O in Charlotte, North Carolina, which launched news for the first time in January, has already added an hour at 6 p.m. seven nights a week. Plans call for a 4 1/2 hour weekday morning show to debut later this month.
Stations are doubling down on news in a variety of formats in an effort to reach more viewers, and especially younger viewers. At 10 p.m., Charlotte's WJZY features "a stand-up host introducing stories and chatting with reporters." Baltimore's WMAR has done away with the traditional anchor at 6 p.m. and promises more depth and investigative reporting.
The amount of time dedicated to local news isn't the only thing that's gone up. The number of stations airing local news hit a record 1,026 last year, according to research Bob Papper conducted for RTDNA, and for the first time in nine years, the number of stations originating local news also went up (only by two, but still reversing a long-term trend).  About a third of news directors surveyed said they planned to increase the amount of news on their air in 2014. So far, that seems to be spot on.
Exhibit A: Tiny Titusville, Pennsylvania–population 5,600–now has its own local TV newscast. Daybreak News at 6 that launched in June airs on Armstrong Cable and is produced by a local company owned by a radio personality.
The question, of course, is whether the flood of local TV news can be sustained. News may be cheaper to produce than syndicated programming is to acquire, but advertisers still want eyeballs and station owners still want profits.  Predictions, anyone?
You might also like
---