by Holly Edgell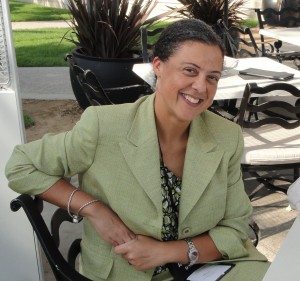 When I graduated from Michigan State University in 1990 with a bachelor's in newspaper journalism, I had a vague sense that I might like to dabble in broadcasting as well. I'd done a radio internship and really liked it. I was not overly excited about newspapers. The message from professors, career counselors and recruiters was uniform: Pick one thing and do that one thing really well.
Call me crazy, I opted for television news after graduation, starting with a job at a television station in my native Belize.
After graduate school, I began what I call my Rust Belt tour of news producing jobs: A typical journey(wo)man, I started small as an 11 p.m. newscast producer and made my way to increasingly larger markets. By 1998, I was at Detroit's WDIV–TV in special projects.
Enter the web
When I arrived at WDIV-TV, there was a "web guy" who did everything from upload news stories to the website to handling IT problems in the newsroom. By the time I left in 2001, there was an Internet Broadcasting crew of four journalists massaging our broadcast stories and mining additional content for the online audience.
As the consumer producer, I quickly cottoned to the fact that there was endless room online to provide resources for our viewers, information we didn't have time to provide on the air. Soon, no consumer story tag was without the line, "For more information on how you can file a complaint about (fill in the egregious consumer exploiter here), go to Click on Detroit dot com," or similar direction language.
At that point, I never dreamed I'd become something called a digital or online journalist.
When I joined Patch.com in 2010 (from Executive Producer at KOMU–TV in Columbia, Mo.), I was first focused on hiring a team of 12 full-time journalists. Soon after, I immersed myself in the Patch content management system. Transitioning turned out to be more about using tools I already knew something about in new ways.
So, how does a television news producer become a digital journalist?
1. Study the industry. I was already dabbling in the web and social media at KOMU-TV. As a lifelong learner, I read about how the news business was changing and evolving. I stepped up my self-education when I knew I was going to Patch. Over my 20 or so months as a regional editor I learned more about SEO, tagging, social media, widgets, and new story forms than I could ever have imagined. It's an exciting world: catch the fever, I say.
2. Polish basic skills and build on strengths. I've always been a strong proponent for bedrock basics. What I mean is, the ability to use solid fundamentals and adapt to different media platforms in ways that are appropriate, compelling and informative. For example, I was able to adapt my writing and copy editing skills in order to teach my team and support their individual transitions to the virtual life.
3. Leadership lessons. I drew on my own strengths and faced up to my weaknesses as I built my team and launched 12 websites in metro St. Louis. Managing a team of journalists in a newsroom is one thing; I worked from home (or a coffee shop) and so did my team members. I had to figure out early how to keep us all connected and productive. Again, fundamentals served me well: treat people with respect; listen; admit when you don't know the answer and promise to find it; patience goes a long way; delegate where appropriate. And a very important lesson: find out what motivates your staff members and help them reach their goals.
4. What do we have in common? For television and radio news folks who want to transition to the dot.com world, there is already a solid foundation in terms of how you work. Broadcasters work with technology (beyond the PC or laptop); so do digital journalists. Broadcasters must deliver news throughout the day, with multiple deadlines; so do digital journalists. My career as a producer was all about local news; the Patch mission is to deliver news and information to local communities.
5. Embrace engagement. This may be the big one. The web allows for an unprecedented level of connectivity between journalists and the communities in which they do their work. People expect more from the digital realm: they want to create a unique experience as they interact with content; they want multimedia; they want to react; they demand a venue for adding their own content and stories.
Evolving titles
Back in college I was a "newspaper major." Later, I was a "TV news producer." Today when asked about my profession I say this: I am a journalist. I tell stories using the traditional and evolving tools and techniques at my disposal.
Like many other journalists, I've found plenty to learn in each new job over the nearly two decades of my career. When I get the itch to broaden my skill set or find a new challenge, I seek ways to do so: whether in a current position or a new gig. That spirit led me to take a leap into the online realm and I am so glad I did. What I learned about leading and doing journalism in the digital space has allowed me to take another step: going to work for myself–focusing on three core areas: journalism, consulting and teaching/training.
We can't all be experts in everything, but in the digital realm the possibilities for storytelling and information delivery are virtually endless.
Questions? Comments? Connect! You can find Holly Edgell on Twitter, LinkedIn, Facebook, and Google+, read her blog or email me@hollyedgell.com. And be sure to check out Holly's tips for TV news on backtiming and staying positive.
You might also like
---